KARACHI: The streets of Pakistan's largest metropolis — the fifth largest city of the world — wore a semi-deserted look on Wednesday after the Sindh government ordered a 15-day closure of all shopping malls, restaurants and parks in response to a coronavirus outbreak.
Sindh has reported the highest number of cases — 181 — among the provinces.
On Wednesday, most shopkeepers were seen sitting on the roadside outside their closed shops.
"We are doing it because the government has ordered us to do it," a shopkeeper in Landa Bazaar told Geo News.
"We have no option but to cooperate with the Sindh government, as this is a necessary precaution against the pandemic," another one said.
Yet another owner concurred. 
"These precautions are necessary. Labourers do not have any option — at least businessmen have a safety net," he said.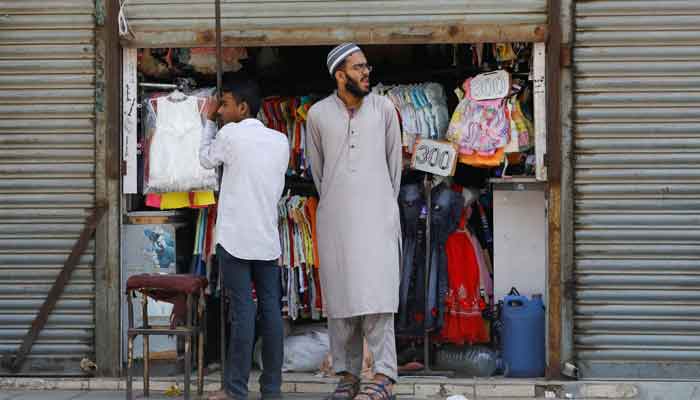 As residents hunkered down at home, ride-hailing services in the city also recorded an 80% decline in their morning bookings, Geo News reported. A bus-sharing service notified customers that it was suspending its operations. 
Weddings and other ceremonies scheduled at hotels had to be cancelled after a shutdown notification was issued late on Tuesday.
Hotels in the metropolis also faced the fallout of the drastic measures taken to contain the spread of the virus. Occupancy rates are currently very low, as only those individuals whose flights have been cancelled are checking in.
On Tuesday, the Sindh government had announced the closure of inter-city transport, public offices, all Out-Patient Departments (OPDs) at public hospitals, shopping malls, restaurants, food streets and public parks for 15 days in the entire province. 
Restaurants were, however, allowed to offer take-away and home delivery services. Pharmacies and grocery stores will also remain functioning as usual.

Earlier, the provincial government had said all educational institutes across the province would remain closed till May 31, with large public gatherings, weddings, congregations, conferences and other events banned.