Health experts are advising people to wash their hands, at least 20-seconds, with soap or water as a precaution against coronavirus. Or if soap is not available, to use a hand gel instead, with high proof of alcohol.

As a result, supermarkets and large pharmacies in Pakistan, including Fazal Din, Chughtai and Servaid, have run out of hand sanitizers as people rush to protect themselves from the Covid-19.
In order to deal with panic-buying, some pharmacies have even rationed sanitizers to one bottle and two face masks per customer.
For now, supply of hand sanitizers is at an all-time low across the country. However, there are stores still selling them at a reasonable price.
Geo.tv tracks down the retailers where sanitizers are still in stock:
CoNatural a Lahore-based brand of organic beauty products, is selling a 120ml hand sanitizers bottle for Rs.399.
The online grocery store 24seven.pk has a sufficient stock of Medi Set Instant Hand Sanitizers 250ml. Also, the company has priced the product at Rs.299.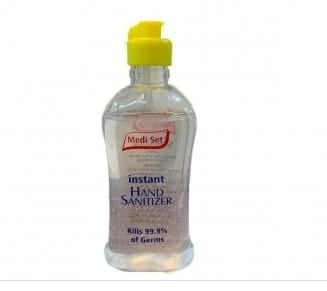 While most of the sanitizers on Daraz Pakistan are out of stock, there is one 50ml bottle of Sparsh hand sanitizer which is still available. Price: Rs.245
Esajees stores in Lahore and Islamabad have the local brand of Anvil sanitizers in stock. The price of a small bottle is Rs.240
The online store, Go Mart, is selling a Dettol hand sanitizer for Rs.210.
Note: Please avoid hoarding and profiteering from surgical face masks, disinfectants and hand sanitizers in this time of crisis. We recommend you buy only those items you need and in reasonable quantity.