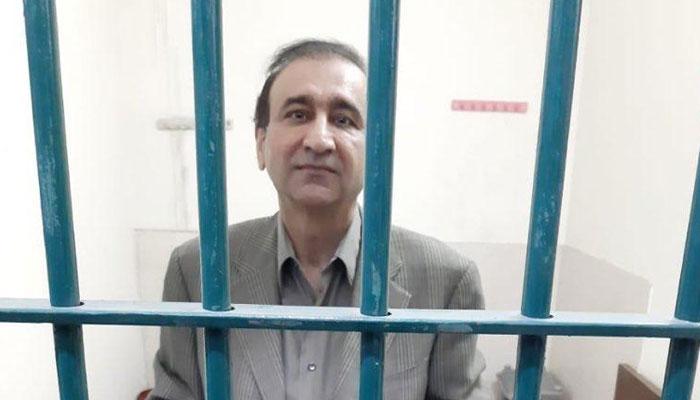 The arrest of Jang Geo Media Group Editor-in-Chief Mir Shakil-ur-Rahman by the National Accountability Bureau (NAB) in a 34-year-old property case was roundly condemned on social media on Sunday, with many prominent users demanding his immediate release.

Senior politicians from across the spectrum, journalists from major media outlets and other notables tweeted in favour of the veteran journalist, who, local and international watchdogs have said, is being victimised for speaking truth to power and not toeing the government's line.
#ReleaseMirShakilurRehman became a top trend on Twitter as thousands of social media users commented on the arrest and asked authorities to look into the miscarriage of justice and give a fair trial to the editor-in-chief of Pakistan's largest media group.
The appeals came as MSR's elder brother, Mir Javed-ur-Rahman, fell gravely ill and had to be hospitalised. The family has issued calls for prayers.  
On Monday, Human Rights Minister Shireen Mazari wrote to NAB requesting the anti-graft body to not oppose MSR's bail plea as his elder brother is critically ill.

Senator Sherry Rehman, a senior politician and former minister, said, "freedom of expression is not negotiable, just like coercion of media or its censorship is unacceptable."
Political figures from other parties also spoke in favour of MSR. In a video statement, Jamiat-e-Ulema Islam chief Maulana Fazlur Rehman said the government first tried to pressurise him but when all attempts were failed, he was arrested.
"This is revenge," Fazl said.
Father of Nobel laureate and child rights activist, Ziauddin Yousafzai asked how the government can defend media freedom in Pakistan by arresting the editor-in-chief of Pakistan's largest media group.
Senator Tahir Mashhadi quoted a saying of Hazrat Ali.
"Even the most incompetent government may run it's course but a tyrannical government will never endure. Imam Ali ( AS )," he tweeted.
Pakistan Peoples Party MNA Nafisa Shah said, "We are fighting no less than a war. We must unite as a nation and fight it. Media workers & owners are our partners in this. We cannot fight if they are in chains."
Federal Minister fr Science and Technology Fawad Chaurdry had earlier said that he was not pleased with the way government is dealing with the media.
On March 12, Mir Shakil-ur-Rahman had been arrested over a 34-year-old property transaction by NAB. Despite presenting evidence of the transaction, MSR was arrested by the accountability body in violation of the Islamabad High Court's orders regarding the conditions of arrest under the NAB chairman's powers.
Various international organisations, including Reporters without Borders, Committee to Protest Journalists, BBC, The New York Times, the US State Department, as well as politicians across the world, have condemned the illegal detention of Mir Shakil-ur-Rahman.