As Pakistan scales back restrictions and eases its three-week lockdown, people are asking if the country has "bent the curve" enough to head back to partial normalcy.

As of April 16, Pakistan has recorded 6,506 cases, of which 124 people have died. The number is much below state predictions for the country of over 207 million, said Dr Zafar Mirza, recently at a press briefing.
On Wednesday, Dr Mirza, the special assistant to prime minister on health, told reporters that on April 15, Pakistan was forecasted to have 18,000 cases and 216 deaths. Fortunately, the country's current tally is lower, he added.
While the stay-at-home directives have been extended till April 30, is the state winning its battle against the virus?
What is the curve?
International health experts have described the curve of a pandemic as that like a roller coaster. In the beginning the cases are low. Then they begin to rise, reaching a peak before falling down again to nearly none.
The faster the curve goes downhill depends on the interventions taken by a state, which in Pakistan's case includes a nationwide lockdown and restrictions on movement.
Currently, Pakistan's graph of confirmed cases looks something like this:
The number of people testing positive daily is on the upward trajectory. Last week, Dr Mirza also told reporters that Pakistan, as per his ministry's calculations, has yet to reach the peak of the pandemic, which could strike somewhere by the end of April
Bending the curve also means ensuring that there are no sudden spike in cases. Yesterday, the country reported its second highest tally (520) of new cases to date, from March 20, as per data available on the ministry of national health service's website.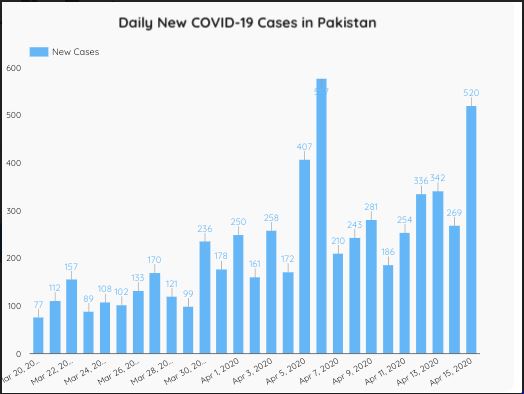 One other measure of gauging the trajectory of the country is determining the number of days its takes to double cases. Here Pakistan has an advantage compared to others facing the outbreak.
Tania Andrus, the head of prime minister's digital Pakistan, recently compared global coronavirus growth trends to Pakistan's. In the tweet, she wrote, Pakistan's confirmed cases were doubling roughly every two weeks. While in the US, the cases doubled every three days.
Bruce Aylward, senior advisor to the WHO Director-General, told the World Economic Forum in an interview that even if the curve is bending "you want to be sure that it's for the right reasons and not just because testing dropped off or surveillance." He added that "requires finding every single case, testing every suspect case, confirming them, isolating the suspect cases, quarantining the others."

Pakistan's daily testing stands a little over 3,000 on most days. But this too is expected to be scaled up to 25,000 by the end of the month, says Dr Mirza.
Till testing is ramped up, it will remain unclear if Pakistan's is heading up or down the hill.