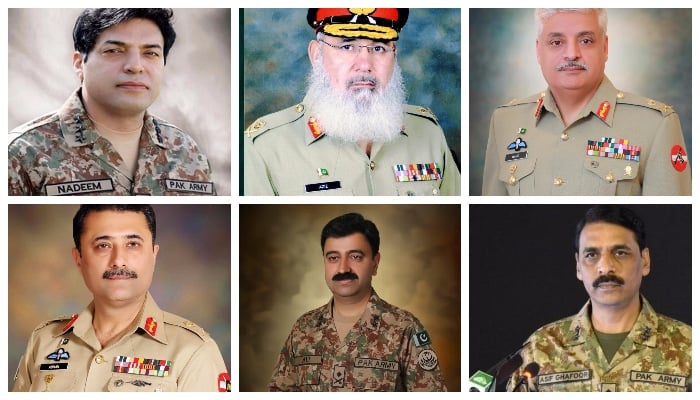 RAWALPINDI: Six major generals have been promoted to the rank of lieutenant general, the Inter-Services Public Relations (ISPR) said on Wednesday. 
According to a statement issued by the ISPR, the officers include Major General Akhtar Nawaz, Major General Sardar Hassan Azhar Hayat, Major General Asif Ghafoor, Major General Salman Fayyaz, Major General Sarfraz Ali, and Major General Muhammad Ali.
Lt Gen Ghafoor has been posted as Inspector-General Communication and Information Technology, ISPR said. Previously, Lt Gen Ghafoor served as Director-General ISPR, from December 2016 to January 2020. He had replaced Lt Gen Asim Bajwa.

Meanwhile, Lt Gen Muhammad Abdul Aziz has been moved to IV Corps (Lahore), Lt Gen Muhammad Waseem Ashraf will be heading II Corps (Multan) and Lt Gen Hayat has been posted as Military Secretary.
Furthermore, Lt Gen Khalid Zia was posted as commander of XXXI Corps (Bahawalpur) and Lt Gen Sarfraz has been appointed as the commander of the southern command.
Similarly, Lt Gen Nadeem Ahmed Anjum has been made corps commander Karachi.
Other appointments include Lt Gen Majid Ehsan as Inspector-General Arms, and Lt Gen Syed Muhammad Adnan as Inspector-General Training and Evaluation.
Pakistan's first female lieutenant general

In June, ISPR notified the promotion of the first female army officer to lieutenant general.

Lieutenant General Nigar Johar became the first woman officer in the history of Pakistan Army to reach the three-star rank. She was appointed the first female Surgeon General of Pakistan Army, according to the military's media wing.