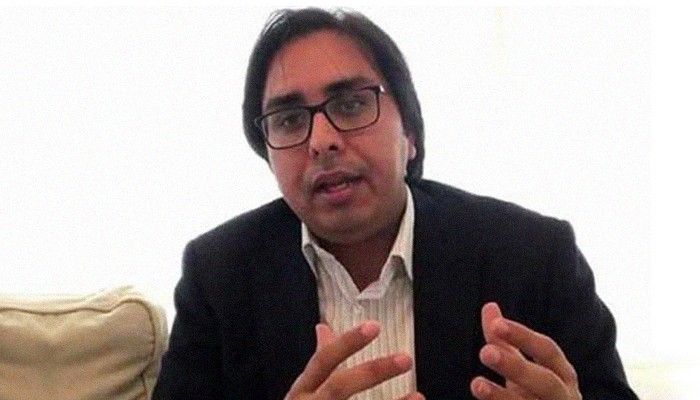 Prime Minister Imran Khan's aide on political communication Shahbaz Gill criticised for quoting guidelines by "international health experts" that it is okay for the premier to come out of isolation.
Prime Minister Imran Khan, who tested positive for coronavirus 10 days ago, chaired a meeting on Gilgit-Baltistan's development today.
Infectious diseases expert at Indus Hospital concurs with Gill but says PM's meeting on day 5 of coronavirus came "too soon".
---
Prime Minister Imran Khan's aide on political communication Shahbaz Gill came under fire on Tuesday for saying that a coronavirus patient "does not need to get tested three days after their symptoms subside".
Gill, providing an update on the premier's health ten days after he tested positive for coronavirus, said that he has resumed routine official work. Senator Faisal Javed also posted a similar update, saying that the prime minister has "recovered completely".

A picture was attached with Gill's tweet, showing a mask-clad prime minister chairing a meeting, which was convened to discuss the development plan to be implemented in Gilgit-Baltistan.

"Note: According to international health experts' guidelines, three days after coronavirus symptoms subside, there is no need to remain under quarantine. There is no need to obtain a negative coronavirus test," Gill said, without citing any source for the information, seen by many to be potentially misleading.
'Refer to WHO website'

One user asked the premier's aide to "refer to the website of WHO (World Health Organisation) and see that a minimum of 10 days quarantine is compulsory".

'What do experts say about meetings?'

Another user criticised the meeting taking place, asking what international experts have to say about such activities. This is the second meeting the premier was seen chairing, after convening one just five days into his illness.

'Are they fools to follow a 15-day quarantine rule?'

Yet another user called into question the 15-day quarantine period being enforced the world over and whether the countries are "fools" to adhere to this guideline.

What international health experts have said about quarantining for patients
 US Centers for Disease Control
According to guidelines by the American Centers for Disease Control and Prevention (CDC), when a patient finds that their symptoms are subsiding, they may consult a doctor.
They will either be told to wait 10 days before stopping quarantine and will not need to test, or in case they receive a negative test seven days after testing positive (test taken on day 5 or after), they can stop isolating.
A person must still continue to watch out for symptoms 14 days after exposure, wear a mask, stay at least six feet from others, wash their hands frequently, and avoid crowds, among other steps to stop the spread of the virus.
"CDC continues to endorse quarantine for 14 days and recognises that any quarantine shorter than 14 days balances reduced burden against a small possibility of spreading the virus," the guidelines add.

WHO
The World Health Organisation advisory in this regard states that patients who do not have symptoms may exit quarantine after 14 days, after which they are not required to take a test for coronavirus.
British National Health Service
The British National Health Service (NHS) recommends that a patient isolate for "10 full days" starting from the day one tests positive. In the case of symptoms, the isolation period begins when symptoms first appear.
A patient can stop quarantining after the full 10-day period if there are no symptoms or "if you just have a cough or changes to your sense of smell or taste" as these can last for weeks after the infection.

Infectious diseases expert at Indus Hospital concurs with Gill

Geo.tv reached out to Dr Naseem Salahuddin, an infectious diseases expert at the Indus Hospital in Karachi, to ask whether it is safe for a patient to end quarantine on the 10th day after testing positive.
According to Dr Salahuddin, although CDC guidelines say one can stop quarantining after 10 days of contracting the virus, given there are no symptoms, this is the minimum defined period and any sooner than this is ill-advised.
She said that the prime minister held a meeting much before today (on the fifth day after testing positive) and it was "too soon" to have done that.
Speaking of the requirement for a patient to test before coming out of isolation, she concurred with Gill that after 10 days have elapsed since contracting the virus, or three days after symptoms subside, "there is no need to get tested if you are not hospitalised or don't have symptoms".