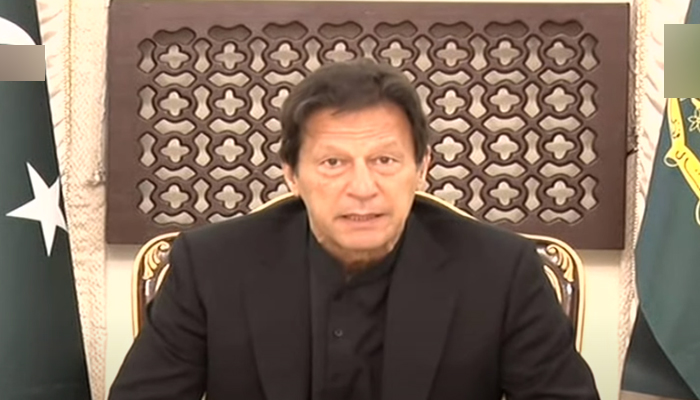 PM Imran Khan, Federal Planning Minister Asad Umar address nation after important NCC meeting.
PM Khan urges people to follow coronavirus SOPs.
New restrictions announced — markets to close by 6pm, ban announced on outdoor dining and gyms, schools in cities with positivity ratio over 5% to stay closed till Eid.
---
ISLAMABAD: Pakistan's government has decided against implementing a full lockdown across the country, but Prime Minister Imran Khan has urged the public to follow coronavirus standard operating procedures to avoid a "complete lockdown".
PM Khan addressed the nation after chairing an important meeting of the National Coordination Committee (NCC) Friday afternoon to give an update on the new coronavirus restrictions as the country battles the third wave of the virus.
It was expected that a lockdown would be imposed in cities where the positivity ratio is above 10%.
The premier, however, announced that a lockdown would not be implemented for now as it will affect the working class and their businesses.
He emphasised on the need to wear a mask at all times. The premier said help will be taken from the Pakistan Army to implement coronavirus SOPs.
"Barely anyone is following SOPs anymore," he said, adding that if we are not careful, the situation in Pakistan will be similar to that of India in the next one or two weeks.
After a brief statement, the premier handed the announcement over to Federal Planning and Development Minister Asad Umar, who listed down some of the important decisions taken during the NCC meeting.
Important decisions taken in NCC meeting

Schools in cities with positivity rates above 5% closed until Eid, including classes 9-12
Markets to stay open till 6pm. Only essential businesses can operate after 6pm. A list of essential business will be issued.
Outdoor and indoor dining banned until Eid. Takeaway and deliveries will be allowed.
Indoor gyms to be closed.
Offices capacity at 50% and are to be closed daily at 2pm.
Eid shopping will not be possible after iftar.
50% work from home policy to be implemented in offices.
NCC meeting

The meeting reviewed the current pandemic situation in the country to decide about imposing further restrictions as the third wave of coronavirus wreaks havoc in Pakistan.
The NCC is an apex body headed by the prime minister. All the chief ministers, federal ministers and other key officials are members of it.

The session was attended by chief ministers, ministers and chief secretaries.
It was expected that commercial activities and offices may also be closed due to the worsening COVID-19 situation.

On Thursday, Umar and Special Assistant on Health Dr Faisal Sultan called on PM Khan and briefed him in detail about the coronavirus situation in the country after which the NCC meeting was convened.

'Few days away from a complete lockdown'
The National Command and Operation Centre (NCOC) on Wednesday had suggested more restrictions to control COVID-19.
"We will have to increase the restrictions. If we do not contain the rapid spread of the pandemic, we will have no option but to impose a complete lockdown in the big cities," Umar had said after chairing an NCOC meeting.
The minister had warned that this was the last chance for people to take the pandemic seriously as done in the first wave last year. Otherwise, he warned, they would have to suffer strict restrictions.
He regretted that neither was the public nor the administration showing responsibility to ensure full compliance with precautions and anti-COVID SOPs issued by the government.
Umar had warned that the country was only a few days away from a complete lockdown so people must follow SOPs to stem the surge of COVID-19.