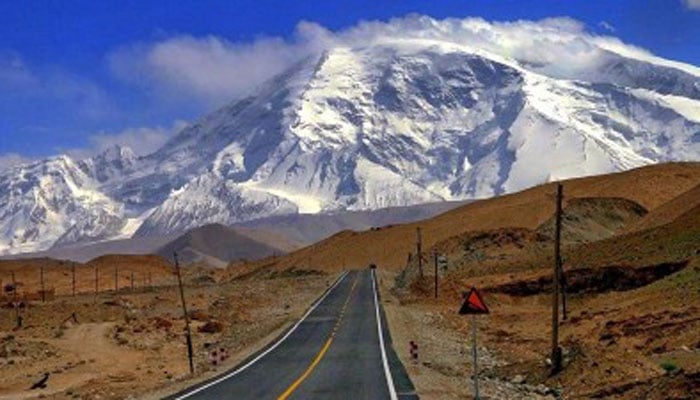 Karakoram Highway opens after 3-day closure due to landslides; stranded tourists and passengers to slowly return home.
Karakoram Highway had been closed at nine places from Tatta Pani to Lal Pari, according to Chilas assistant commissioner.
Rain continues across Gilgit-Baltistan intermittently, damaging houses and crops and blocking communication roads.
---
CHILAS: Countless tourists and locals who had been stranded due to the three-day closure of the Karakoram Highway following landslides in Gilgit-Baltistan will take hope after the highway was cleared of debris Thursday evening.

The Karakoram Highway had been cut off at nine places from Tatta Pani to Lal Pari, including Gandlo, Raikot and other places, the Chilas assistant commissioner had said earlier.

In a statement issued Thursday evening, local police said the debris blocking the roads had finally been removed, allowing tourists to return home. 
Heavy machinery had been installed on both sides of the Karakoram to clear the highway, but there were difficulties in rehabilitation work due to landslides.
Read more: AJK imposes 10-day restriction on tourism spots as coronavirus cases rise
The GB home department had said work on opening the blocked portions of the Karakoram Highway started early Thursday morning.
According to the GB home department, the Gilgit-Baltistan Road was also blocked at 15 places due to landslides.

They said the Disaster Management Authority and Frontier Works Organisation worked day and night to restore the Gilgit-Astore Road and all kinds of traffic on the highway had been restored by Thursday afternoon.
The GB home department had earlier said the road will be reopened soon if there is no more rain or landslides, with FWO, NHA and district officers overseeing rehabilitation work on the spot.

Tourists had been told to wait in Chilas till the roads reopened. Inter-district highways were also being opened on an emergency basis.
More machinery had been sent on Thursday to speed up the process.
Meanwhile, rain has continued in the city intermittently for the last three days. Houses and crops have been damaged and communication roads have been severely affected by rains in the region.
Khaner Valley lost ground connection with the city and it could not be restored even after 48 hours

Rains, landslides in Gilgit-Baltistan cut off ground connectivity in many areas

Rains have been continuing in Ghizer district of Gilgit-Baltistan for the last three days due to which several ground connections have been cut off due to landslides at various places.

Tehsil Yaseen's ground connection has been cut off since a day due to a landslide in Damilgan area of ​​Ghizer, while landslides also took place at Gopis Chartoi due to which the Gilgit-Chitral Road was closed for all kinds of traffic.
Read more: Five policemen martyred in exchange of fire during raid in Chilas
On the other hand, Ashkuman Valley's main road remained closed Thursday for the fourth day today due to river erosion.
The ground connection of the upper villages of Amat has also been cut off for the past five days. In addition, there are reports of closure of communication roads in other areas due to landslides.