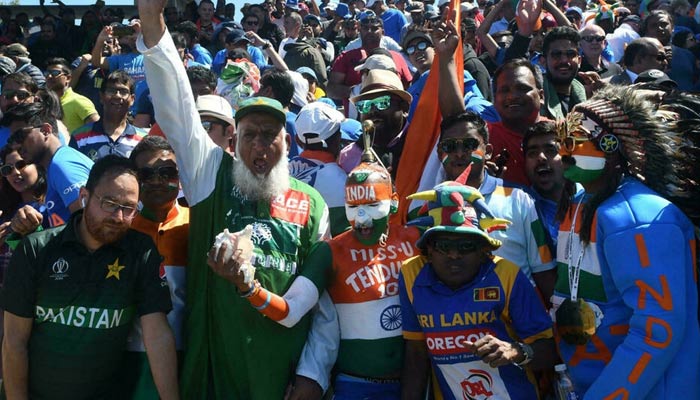 Former Australian opener says nothing matches the rivalry between India and Pakistan.
Hayden accepts there is enormous pressure of an India-Pakistan match.
He believes Pakistan skipper Babar Azam will be under extra pressure.
---
KARACHI: Pakistan cricket team's batting consultant Matthew Hayden feels that leadership will be the key for teams during the ICC T20 World Cup.
Talking to media online on Thursday, the former Australian cricketer also said that he has never seen a sports rivalry close to the rivalry of India and Pakistan in a cricket match.
Hayden said that KL Rahul and Rishab Pant can be a threat to Pakistan in the high-voltage match on Sunday in Dubai.
"I have more or less watched KL Rahul, who's a major threat to Pakistan, growing up as a boy seeing his struggles with Test matches versus his dominance in the shorter formats of the game. Seeing someone like Rishabh Pant, how he's destroyed bowling attacks because he's got that opportunity and sees it that way," he said about the Indian team's strength ahead of Pakistan's World Cup game against India.
"Our camp has got some wonderful assets that are ready to perform on the day," he said while referring to the names of Fakhar Zaman, Babar Azam, and Mohammad Rizwan.
"The top three are a critical part of the performance here in the UAE. Generally speaking, the powerplay has been such a significant part of T20 cricket in the UAE, most sides that win the power play, win the match and you don't necessarily win the power play by being overly aggressive. So, I think that we have a very strong batting combination including Hafeez, as well," he said.
Hayden highlighted that big totals in UAE are never going to be achieved and 200 plus totals are going to take something extraordinary on the day for that to happen.
"So average scores roughly in Abu Dhabi 170, in Sharjah 150 and in Dubai, that 170 potentially is kind of like what we're looking at. So, we're not talking about 10s and over from the start of it. I do think that we've got a very, very balanced and strong batting lineup," he said.
Replying to a question, the batting consultant said that Babar Azam and Shaheen Afridi have key roles to play in Pakistan's world cup campaign.
He highlighted that Babar has his own role to play not only batsman but also as the captain and he will be under extra pressure as teams will try to target him.
"As you've seen, throughout the IPL, the two dominant captain's here in the UAE were MS Dhoni and Eoin Morgan, even though their individual performances weren't as good as what they have previously done within but the way they lead their troops and conducted themselves is also an important part of the UAE. It is a real dog fight, the conditions and the margins for errors are very little. And, and so good leadership is going to be key," he said.
"I think Babar has that that commands that presence and he commands that role and any needs to fulfill that role. On a batting sense as well. I think he is the premium player, he will be targeted. He will be he will also be the person that everyone is wanting to put in his pocket. And so yes, there's going to be additional pressure on him both as a captain and also as a batsman. But I sense that the way that he goes about it is going to be spot on," the former Australian batsman said.
The Batting consultant also suggested that Fakhar Zaman should be playing at one-down position in Pakistan's batting lineup and added that the flamboyant batsman is such a player who can bat anywhere in the top four.
"Fakhar can play anywhere in those top four positions because he commands that performance. I think in the two games that he's played here in the UAE, he has performed very solid, he's also playing smart as well. I quite like him inside that as at number three that share anchor role because of his way that he's got this great ability to be able to assess the conditions quite quickly, then he can advance the game based on that partnership with Rizwan and Babar," he suggested.
Talking about the Indo-Pak rivalry, the former Australian cricketer said that India vs Pakistan rivalry provides an opportunity for all the players to write history.
He added that he has seen many rivalries in sports, but nothing matches the rivalry of India and Pakistan on the cricket field.
"The pressure, though, is only as much as what you allow it to be. And all that can be done is done, your preparation is there, your experiences there, your opportunity now becomes a very history-making opportunity," he said about the pressure and importance of the India vs Pakistan game.
"We can present all the stats, we can do all of our homework and research but nothing can replace what will be the stat that we all write about that we all dream about, that we all coach about, or commentate on, which will be the event itself. I sense that our players are ready for that opportunity and I sense that there is a calmness around our group that would be a successful competitor on the day so all that is done is done and now it's just the opportunity of playing the game," the batting consultant of Pakistan team concluded.