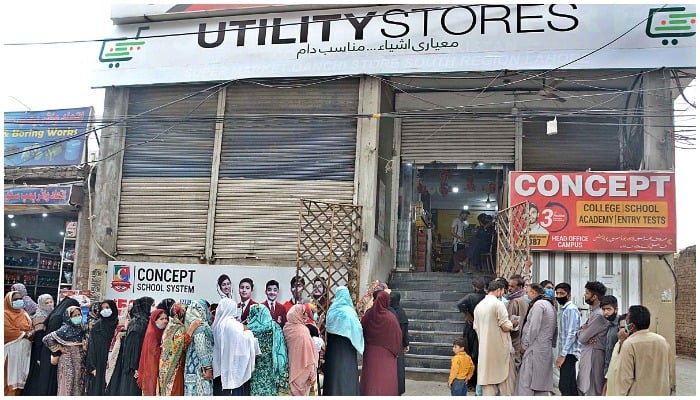 USCP rolls back notification of price hike hours after issuing it.
It says decision to retract notification taken in best interest of people.
Cooking oil's rate was hiked up to Rs65 per litre, ghee up to Rs53 per kg.
---
Hours after increasing the rates of ghee and cooking oil, the Utility Stores Corporation of Pakistan (USCP) on Wednesday rolled back the notification, which it had earlier issued to hike the prices.
In the notification, the USCP spokesperson said the rates were increased after the commodity manufacturers had moved up the prices.
But in the interest of the people, the rate of ghee, cooking oil, and other subsidised commodities will remain the same, the spokesperson added.
How much were the rates increased?
According to a notification earlier issued in this regard, cooking oil of different brands had been increased up to Rs65 per litre at Utility Stores, while the price of ghee had been increased up to Rs53 per kg.
The notification said the price hike at utility stores would come into effect immediately.
It may be recalled that prices of ghee and cooking oil of various brands were increased at Utility Stores a few days ago as well.
The timing
The increase in prices came just as Prime Minister Imran Khan had announced a "historic" relief package worth Rs120 billion for the masses under targeted subsidy.
PM Imran Khan, addressing the nation, had said that considering that the masses are undergoing a tough time due to the inflation in the country, the government is introducing a package for 20 million families, which will — in turn — benefit 130 million Pakistanis.
"This [poverty alleviation] package — called the Raashan Madad Package — which is worth Rs120 billion, will be offered to [most vulnerable] Pakistanis by the federal and provincial governments," he said.
The premier announced that under the package, citizens will be able to avail a 30% discount for six months on three basic edible items, including ghee, wheat, and pulses.
The premier said that under the package, interest-free loans of up to Rs500,000 will be provided to city-dwellers to start businesses, while a similar amount of loan will also be provided to farmers.