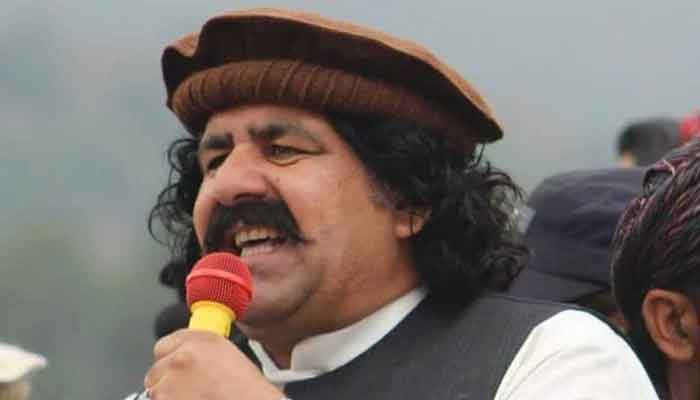 ISLAMABAD: The Supreme Court of Pakistan Tuesday ordered the release of MNA Ali Wazir on bail. 
The three-judge bench, headed by Justice Sardar Tariq Masood and comprising Justice Jamal Mandokhail and Justice Aminuddin Khan, heard the case. The Waziristan lawmaker was directed to deposit surety bonds worth Rs400,000.
Ali Wazir was arrested on charges of issuing statements against state institutions during a speech on December 06, 2020. The FIR against the MNA was registered at a Karachi police station. 
Wazir had filed an appeal against the Sindh High Court's (SHC) verdict which had dismissed his bail plea. The lawmaker had claimed that he is innocent and not guilty of the offences mentioned in the FIR. 
'Tomorrow, a deal will be struck with Ali Wazir'
In his remarks during the proceedings, Justice Masood said the state was negotiating deals and releasing people, maybe "tomorrow, a deal will be struck with Ali Wazir".
"People are getting martyred. Does the law not apply there? Do the courts only exist to grant bails?" the apex court justice asked.
The justice questioned whether Wazir's reservations were discussed in the Parliament or not, as he noted that his issues should have been addressed. "Why are we behaving like strangers with our own people?"
"If any of the allegations made by Ali Wazir are true, then what will happen? The treatment with the other suspects in the case seems to be a case of good and bad Taliban," he remarked.
Justice Tariq further questioned why had Wazir been charged under the anti-terrorism act when the case did not merit it. At this, the lawmaker's legal counsel said Wazir had only voiced his complaints in his speech.
"How did a Sindh police officer register a case against Wazir on his speech in Pashto?" the lawyer asked.
Responding to the lawyer, Justice Aminuddin Khan said from the case's record, it was clear that Wazir was booked after his speech was translated.
Moreover, the prosecutor general of Sindh said several other cases of a similar nature were registered against Wazir. The court asked whether the lawmaker had received bail in them as well or not.
At this, the prosecutor general of Sindh said no, he had not received bail in them.