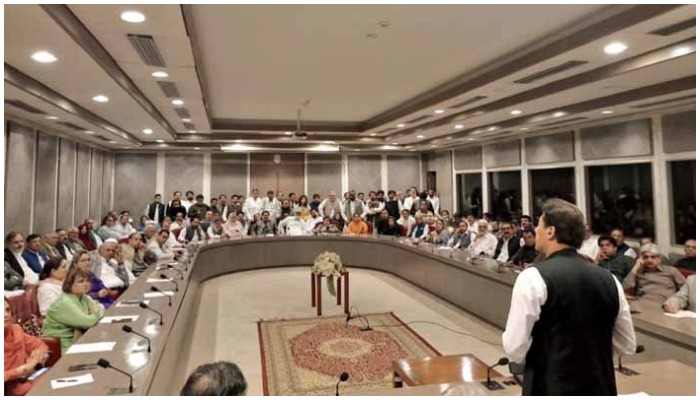 Farrukh Habib, Ali Zaidi, Murad Saeed, Shireen Mazari, Shafqat Mahmood, and Ali Mohammad Khan have resigned.
 Sources said most of parliamentary party members opposed Khan's decision to tender resignations but later accepted his decision.
Khan said if none of the parliamentarians resigns, he "will be the first member to resign from the assembly."
---
ISLAMABAD: Former prime minister Imran Khan has reportedly decided to tender his resignation as a member of the National Assembly ahead of the election for the new prime minister of Pakistan.

The decision was reportedly made during the PTI's parliamentary party meeting.
Sources privy to the matter quoted Khan as saying: "We will not sit in this Assembly under any circumstances." He said that PTI will not sit in the Assembly with the "people who have robbed Pakistan" and who have been "imported by foreign forces".
"We have made this decision to keep the institutions under pressure who want this government to run the country [...] we will not let them continue."

However, sources said that most of the parliamentary party members opposed Khan's decision to tender resignations, and instead, advised that they should not leave the field empty and face the Opposition strongly on every front.

At this, Khan said if none of the parliamentarians resigns, he "will be the first member to resign from the assembly."

After this, all the members consented to the decision, saying that Khan has the authority to order them to resign. He further stated that the entire country saw the power of PTI on Sunday night as hordes of people 
In another major development, the PTI has also decided to boycott the election of the prime minister for which they have nominated former foreign minister Shah Mehmood Qureshi.  
Resignations from PTI lawmakers start pouring in
So far, several members, including Hammad Azhar, Farrukh Habib, Ali Zaidi, Murad Saeed, Shireen Mazari, Shafqat Mahmood, Ali Amin Gandapur, and Ali Mohammad Khan have resigned. 
Former federal minister Fawad Chaudhry, while speaking to Geo News, said that all the members will hand down their resignations to NA Deputy Speaker Qasim Suri, who will also resign from his post after accepting the resignations.