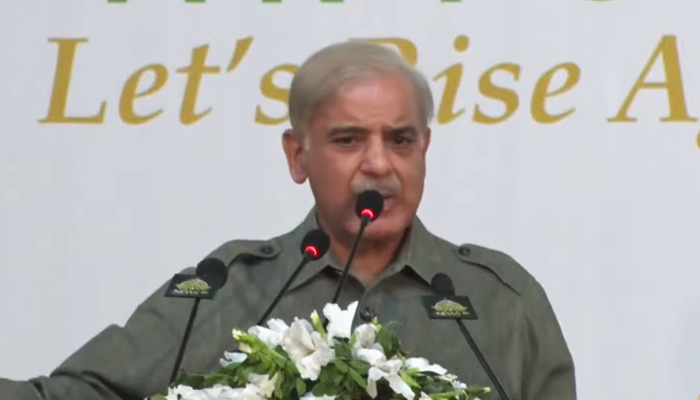 Finance Minister Miftah Ismail tells PM Shehbaz Sharif Pakistan will receive not $1 billion, but $2 billion from IMF.
PM Shehbaz responds by saying "self-reliance ultimate goal".
Asks whether it is the "choosers" that are now going to receive $2 billion or "the other word".
---
Prime Minister Shehbaz Sharif on Tuesday said that Pakistan's "ultimate goal is self-reliance" in response to news that the country will receive not $1 billion but $2 billion in loans from the International Monetary Fund (IMF).
He was addressing the "Turn Around Pakistan" conference, where he spoke about receiving a text from Minister for Finance Miftah Ismail sharing the good news.

"Miftah Ismail sent a message this morning saying that Pakistan will receive not $1 billion but $2 billion from the IMF. I told him in response, Alhamdulillah, but our ultimate goal is self-reliance," the premier told the audience.

The prime minister's address comes shortly after Ismail confirmed Pakistan has received the Memorandum of Economic and Financial Policies (MEFP) from the IMF for the seventh and eighth reviews.
The draft MEFP is a prerequisite to pave the way towards striking a staff-level agreement.
Now that Pakistan has received this document, it will be analysed and scrutinised for three days by the country's economic team. The finance minister and State Bank of Pakistan governor will then sign it if no major problem is found. The staff-level agreement will then be presented before the IMF's Executive Board next month for approval, after which the tranches will be released.
The MEFP may be considered as the crux of decisions negotiated between Pakistan and the Fund because it includes policy actions and structural benchmarks the two sides agreed on.
PM Shehbaz, in his address, said that achieving the goal of self-reliance is "easier said than done".
He noted that while a coalition government has certain "plus points", it has to be acknowledged that consultation between provinces on issues, as is the democratic norm, does carry with it certain challenges.
"We have all accepted this challenge and will InshaAllah fulfil this responsibility," he said.
PM Shehbaz said that although he may receive opposition in once again using the word that created much political drama in recent weeks, he will ask whether it is the "choosers" that are now going to receive $2 billion or "the other word", referring to beggars from the phrase "beggars can't be choosers".
He said it was a major achievement that neighbouring Bangladesh had recently spent $6 billion on infrastructure without approaching the IMF, World Bank or Asian Development Bank.
There is no shortage of anything in Pakistan and there are experts in every field, PM Shehbaz said, before lamenting that "billions of dollars are buried in Reko Diq but we have not earned a single penny".
"It is a pity that the country's development and prosperity have not been achieved," he said.
'With focus on economic growth, self-reliance not impossible'

Ismail also addressed the conference prior to PM Shehbaz Sharif's speech.
He said that when he messaged Prime Minister Shehbaz Sharif about the development, he replied: "Well done. But remember our ultimate goal is self-reliance. That will be our legacy," Miftah said, quoting PM Shehbaz.
The minister said that fortunately, Pakistan has taken a step towards this journey and will achieve self-reliance soon.
"I believe that if Pakistan only focuses on economic growth for the next 10 years, this goal is not impossible," Miftah.
The minister went on to say that Pakistan couldn't afford a fifth budget deficit after four record budget deficits in the last four years.
"Rs20,000 billion was borrowed in around four years," he said.
He said that Pakistan has to deal with Rs4,000 billion in debt servicing today because of an increase in the interest rate and doubling of debt.
The government had to take tough decisions to bring Pakistan on the path to progress, he added.
Step toward restoring bailout

The economic and financial targets received from the IMF once agreed and ratified should pave the way for the multilateral lender to unlock a suspended bailout programme.
Pakistan desperately needs the money to avert a balance of payment crisis that is being brought closer by the day as result of the sharp rise in global oil and commodity prices.
Central bank foreign currency reserves have fallen to as low at $8.2 billion, barely enough to cover six weeks of imports, and the economy is reeling from a sharp depreciation in the Pakistani rupee and double-digit inflation.
Pakistan entered a $6 billion IMF programme in 2019 spread over three years and three months, but with less than half the amount disbursed the IMF suspended the bailout earlier this year after the previous prime minister, Imran Khan, announced unfunded subsidies for the oil and power sectors. Khan's government was ousted in April.
Needing to get back in the IMF's good graces, the new government, led by Shehbaz Sharif, has removed the subsidies, and made adjustments in a budget presented on June 10 that aimed at reducing the government's fiscal deficit, which was one of the IMF's key requirements.

Delivering an update following talks between Pakistani and IMF officials, Ismail said in a tweet that government had received the IMF's MEFP containing economic and fiscal targets under the seventh and eighth reviews of the programme.
Significantly, having the two reviews completed at the same time raises the prospect of $1.9 billion being disbursed once the IMF board gives the all clear to resume the bailout programme.
Once the IMF clears the next tranche, it should open up other external finance avenues for Pakistan to shore up its reserves.