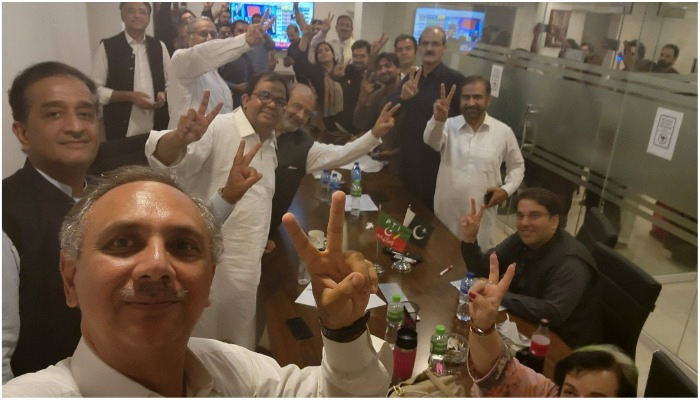 PTI wins 15 of 20 constituencies in landslide victory, according to unofficial final tally.
PML-N wins four seats, including one in Lahore.
PML-N "bows" before people's decision; PTI thanks Punjab, says "no foreign power has right to decide Pakistan's fate".
---
Celebrations in the PTI camp were in full swing on Sunday night as preliminary, unofficial results in the by-election on 20 constituencies of Punjab, showed the party has decimated its rival, the PML-N, in the contest to snatch back control of the province.
In a recount of votes for the Punjab chief minister election on July 22, in accordance with the Lahore High Court order, the PTI is now poised to win, in effect removing PML-N's Hamza Shahbaz from office.

According to the unofficial final count from Sunday's polls, the PTI won 15 seats, while the PML-N managed to clinch victory in only four, and an independent candidate grabbed one.
The PML-N was gracious in defeat, with party vice president Maryam Nawaz saying the party should accept the results "wholeheartedly" and "bow before the people's choice".
The PTI thanked Punjab and lauded the people for their "bravery".
"With this historic win you have told the world we are a self-respecting nation. Now whatever the Pakistani people decide, will happen. No foreign power has the right to decide our fate," a message from the party's official Twitter account said.

Late night Rawalpindi tussle

Past midnight, a tussle to claim victory for PP 7 Rawalpindi II took place between PML-N and PTI.

Minister for Information Marriyum Aurangzeb claimed that PML-N has won the constituency and that PTI workers are "threatening and harrassing" the returning officer.
"PTI leaders have forced their way into the returning officer's office and with bullying, threats and thuggery are trying to put him under pressure, which is condemnable. PTI must not make a transparent election controversial," she wrote.
Her tweet came in response to one by PTI's Asad Umar who claimed the results for the constituency are "being withheld".
He urged party workers to remain at the polling station until they get the result.

Later, unofficial results showed that the PML-N has won the seat by a narrow margin of 49 votes, with Raja Sageer Ahmed landing 68,906 votes as opposed to PTI's Muhammad Shabir Awan who got 68,857.
PTI's victories

Among notable wins was PTI's Makhdoom Zain Hussain Qureshi, son of former foreign minister and party vice chairman Shah Mahmood Qureshi, defeating PML-N's Muhammad Salman in PP-217 Multan VII.

The Form 47 — the consolidated return to the Election Commission of Pakistan of a constituency's provisional results — showed that Qureshi secured 47,349 votes as against Salman, who bagged 40,429.
The party also emerged victorious in:

PP-288 Dera Ghazi Khan IV
PP-202 Sahiwal VII
PP-83 Khushab II
PP-140 Sheikhupura VI
PP-282 Layyah III
PP-224 Lodhran I
PP-158 Lahore XV
PP-167 Lahore XXIV
PP-170 Lahore XXVII
PP-97 Faisalabad I
PP-90 Bhakkar II
PP-127 Jhang IV
PP-224 Lodhran I
PP-272 Muzaffargarh V

PML-N's wins

It wasn't a clean sweep for PTI in Lahore, with PML-N winning the PP-168 Lahore XXV constituency.
PML-N also won PP-237 Bhawalnagar I, PP-273 Muzaffargarh VI, and  PP-7 Rawalpindi II.
Independent gets one

Meanwhile, independent candidate Syed Muhammad Rafi ud Din won PP-228 Lodhran V, with 45,020 votes as against PTI candidate Izzat Javaid Khan, who bagged 38,338.
Unofficial breakdown of results

A breakdown of the latest unofficial, preliminary results is given below:
How the day fared
Today's polls remained largely peaceful aside from a few reports of clashes between supporters of opposing parties. No casualties were reported.
Other kinds of drama, however, stole the limelight. This included an early morning resignation, a number of arrests, including that of PTI leader Shahbaz Gill, and a leaked audio allegedly implicating the former interior minister.
Voter turnout was not as large as the parties hoped but was considerable, said by Minister for Interior Rana Sanaullah to be 40%.
The fights

A scuffle broke out between PTI and PML-N workers during the polling process in Lahore's PP-158 constituency. As a result, one of the PML-N workers sustained a head injury.

Meanwhile, PML-N candidate Rana Ahsan Sharafat engaged in a heated argument with PTI leader Jamshed Iqbal Cheema.
The arrests

PTI workers were arrested in Lahore when they were found to have been carrying weapons, according to Punjab government spokesperson Attaullah Tarar.

PTI's Shahbaz Gill was arrested in Muzaffargarh for allegedly visiting different polling stations in the city with his security guards who were dressed in uniform identical to those of Frontier Constabulary personnel and carrying weapons.

A ban was placed against the carrying of arms ahead of the polls.