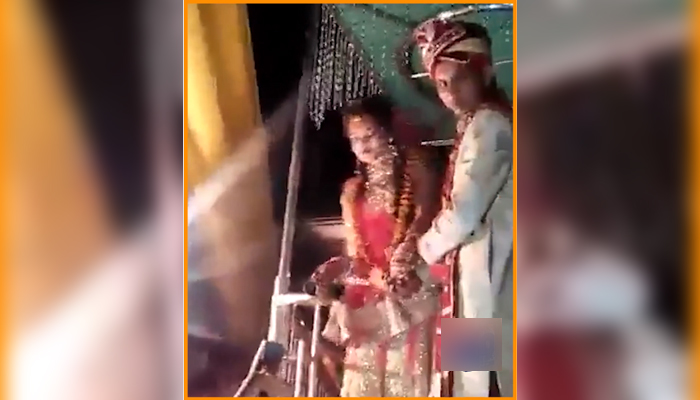 A viral video showing a groom trying to sweep his bride off her feet— and failing — has the internet in stitches.
In the subcontinent, weddings are marked by joyous festivities, unique traditions, and extravagant displays of wealth. While a lot can be said about each of these aspects, it is also true that weddings often become venues of moments that are lighthearted, amusing, or just plain hilarious.
A recent viral video from a wedding which was apparently held in India is just that. The video of a young bride and groom during their wedding ceremony started circulating on social media platforms on January 3 has the internet laughing out loud and going "oh no!".
The short clip shows the young couple standing on a decorated platform as a romantic Bollywood song plays in the background. In the background, the young groom's friends urge him to "carry" his bride in his arms.
The bride, decked in the traditional subcontinent bridal attire of a heavily embellished red and adorned with jewellery, blushes, and giggles as the groom makes his first attempt to lift her.
He looks a bit lost and fails and then proceeds to attempt lifting her again. In a last-ditch effort, he wears a look of absolute determination, and this time succeeds to lift his better half — for a brief second.
As soon as he lifts her, the young bride loses her balance and topples backwards. The groom tries to keep his balance but fails and both land on the platform amidst peals of laughter from the audience.
Previously too, videos of such moments and wedding fails have surfaced from various parts of the world. A video from India shows a couple slapping each other on their wedding day.
While other reports detail brides and grooms breaking off marriages on the day of the wedding for reasons as mundane as eating habits and unpunctuality.