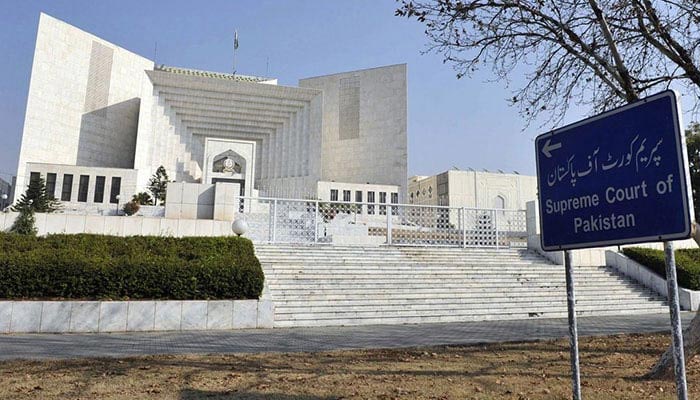 SC takes notice of new AGP's appointment.
DAG, AGG unaware of who is the new AGP. 
Court adjourns hearing till January 17.
---
ISLAMABAD: The Supreme Court (SC) of Pakistan on Wednesday called into question the official status of the new attorney-general for Pakistan (AGP) after his office failed to assist the apex court in a property-related case. 

Taking notice of the appointment of the new and the resignation of the last AGP, a two-member bench of the SC — headed by Justice Qazi Faez Isa — took up the case.
The court summoned the secretary of law to the next hearing and ordered him to bring all the documents related to the new attorney general's appointment and the former's resignation. 

During the hearing, the judge commented that "the office of Mansoor Awan, the new AGP, has not been properly providing assistance to the court in cases for which it seeks a explanation".
"Who is the attorney-general?" Justice Isa —during the hearing— questioned Deputy Attorney General (DAG) Shafqat Abbasi, who replied: "Ashtar Ausaf". 
"Ausaf has resigned and his resignation has been accepted," Justice Isa said.
"Who is the new attorney general?" he questioned. The deputy attorney-general said he was unaware of it. 
Justice Isa then questioned Additional Attorney General (AAG) Aamir Rehman about the new AGP, who also failed to give an answer. 
The court adjourned the hearing till January 17.
New AGP
Mansoor Usman Awan, who is the new AGP, replaced Ashtar Ausaf Ali after the latter resigned from his office. His appointment was approved by President Dr Arif Alvi on December 23, 2022.
The former AGP resigned from his post back in September 2022 due to health reasons, as per the sources. 
He submitted his resignation to Prime Minister Shehbaz Sharif. However, he had offered to continue working as AGP till a replacement was appointed.