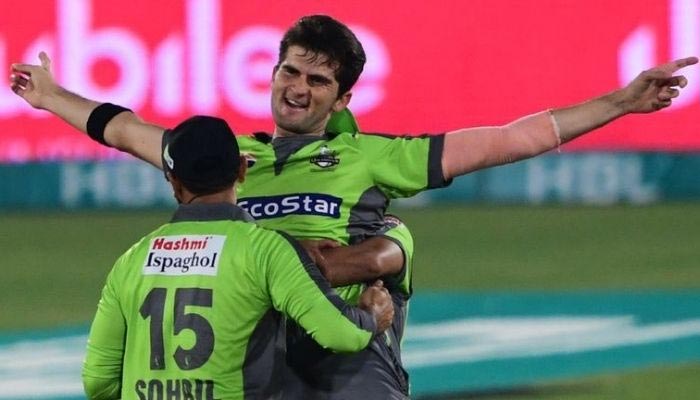 Pakistan Super League (PSL) franchise Lahore Qalandars is hopeful of retaining the title under star pacer Shaheen Shah Afridi's leadership in the eighth edition of the Pakistan Super League (PSL) — scheduled to begin on February 13, 2023.
Lahore Qalandars Chief Operating Officer (COO) Sameen Rana, while speaking to Geo News, said that their captain is completely fit to play in PSL 8. 
"Shaheen is bowling for the national team these days and is in rhythm."
The pacer suffered a knee injury that during the two-match Test series against Sri Lanka. He returned to the field during the T20 World Cup but sustained another injury during the final at the Melbourne Cricket Ground (MCG). The pacer has not played since then. 
The COO said that Lahore Qalandars is not under pressure as the team is a champion and because it has seen bad times in the past as well. 
"We are the champions and we will try to defend the title. We want to become the first team to defend the PSL title," he added. 

Talking about the squad, Rana said that he is satisfied with the combination of the team. He said that he has tried to make the best team by keeping a balance in it. "Bowling is our strength and the batters are world-class. 
Right-handed English batsman Samit Patel has been replaced by Liam Dawson while Mohammad Hafeez has been replaced by Sikandar Raza, he added. 
Speaking about the newly-appointed Pakistan Cricket Board's (PCB) Chairman Najam Sethi, Rana said that the PSL will achieve more success under his leadership. 
"Najam Sethi launched the PSL under difficult circumstances and PSL needs an administrator like him," he added. 
'Eager to make a comeback'
Last week, Shaheen said he is eyeing a comeback with next month's PSL as he is set to return in full action with his rehabilitation in the final stages.
"I am feeling much stronger than what I felt during the World Cup. I'm bowling with full rhythm and eager to make a comeback very soon," Shaheen told Geo News. 
The young fast bowler has set his eyes on the PSL's eighth season, as he will be leading Lahore Qalandars and aiming to defend the title.

"We are a very good side and I am confident that we'll produce better results than before. I am very happy with the team, as we have overcome where we lacked last year and I believe that Qalandars are stronger this time," the cricketer said.
"The PSL is the biggest brand for Pakistan and I am looking forward to making my full comeback during that tournament," the fast bowler said.