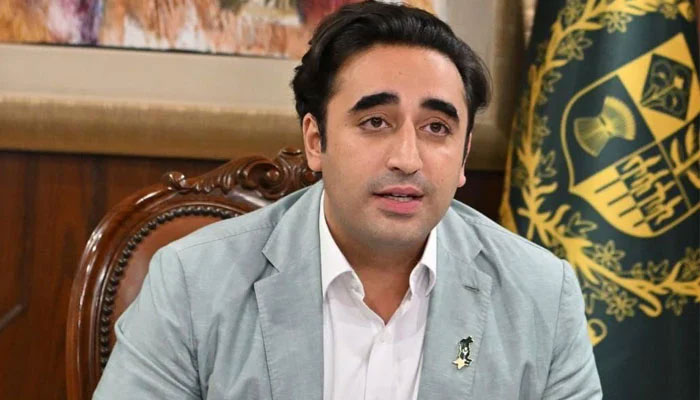 Bilawal Bhutto says PPP is in constant touch with MQM-P.
He urges masses to exercise democratic right for development.
We should go beyond religious and linguistic politics, he says.
---
Pakistan Peoples Party (PPP) Chairman Bilawal Bhutto-Zardari urged Muttahida Qaumi Movement–Pakistan (MQM-P), a key coalition partner in the centre, to ensure its "all-out" participation in the local body polls in the province.
Talking exclusively to Geo News over the phone, the foreign minister said that the MQM-P has seasoned politicians and they must take "good political decisions".
In the meantime, an important meeting of the MQM-P Rabita Committee is underway at its Bahadurabad office to decide on taking part in the LG polls. Sources privy to the matter said that MQM-P decided not to backtrack from its decision on delimitation. The party was deliberating on tendering resignations from the ministries, the sources added.
Responding to a question, the PPP leader said that his party was in constant touch with MQM-P, but for now, they were busy in preparation for the elections scheduled to be held tomorrow.
He urged the masses to exercise their democratic right for the development of the metropolis. Bilawal hoped that his party will clean sweep the elections in Hyderabad while Karachi's mayor would be from the Pakistan Democratic Movement (PDM).
"I don't think MQM-P would make any non-political decision. It will play its role in the betterment of Karachi and Hyderabad," he added.
'Our competition is with JI'
The PPP chairman said that parties should go beyond religious and linguistic politics, adding that their competition in Karachi and Hyderabad is with Jamaat-e-Islami.
He maintained that after the elections, they would work together for the development of Karachi.
Responding to another question about the future of their alliance with MQM-P, the foreign minister said that they tried their best to save the alliance.
All the political parties, including PPP, have reservations over the delimitation of the constituencies, he added.
"PPP raised the most objections over the delimitation," Bilawal said, adding that despite all the concerns, his party is contesting elections.
After much ado, the polls will be taking place across several districts in Sindh following the Election Commission of Pakistan's (ECP) insistence.
The preparations for the polls have been completed and more than 43,605 law enforcement officials and personnel will be deployed to ensure the law and order situation.