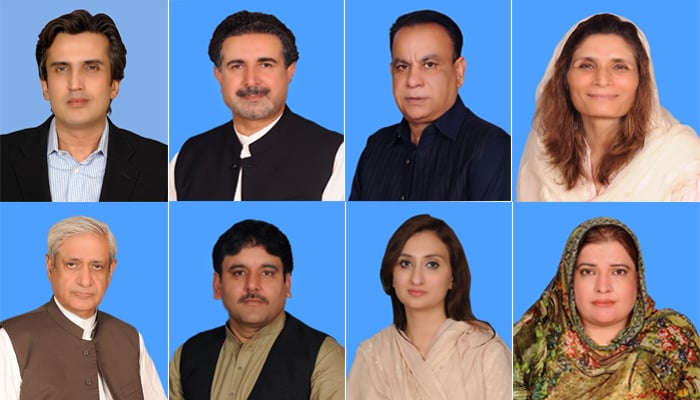 National Assembly Speaker Raja Pervaiz Ashraf on Friday accepted the resignations of 35 Pakistan Tehreek-e-Insaf (PTI) MNAs taking the total number of resignations accepted in the last eight months to 81.
The National Assembly Secretariat, in a statement issued in this regard, mentioned that the resignations have been approved under Clause (1) of Article 64 of the Constitution of Pakistan. 

Following the approval of the resignations, the summary was sent to the Election Commission of Pakistan (ECP) to de-notify the PTI lawmakers.
Here's a list of all 35 MNAs whose resignations were accepted today:
Reserve Seats
Andaleeb Abbas — RS-Women
Asma Qadeer — RS-Women
Maleeka Ali Bokhari — RS-Women
Munawara Bibi Baloch — RS-Women
The NA speaker accepted 70 resignations this week, as he approved the resignations of 35 lawmakers earlier this week. 
Here's a list of all those 35 MNAs de-notified by the ECP:
Murad Saeed — NA-04 Swat-III
Omar Ayub Khan — NA-17 Haripur-I
Asad Qaiser — NA-18 Swabi-I
Pervaiz Khattak — NA-25 Nowshera-I
Imran Khattak — NA-26 Nowshera-II
Sheharyar Afridi — NA-32 Kohat
Ali Amin Khan — NA-38 Dera Ismail Khan-I
Noor-ul-Haq Qadri — NA-43 Khyber Agency Tribal Area-IV
Raja Khurram Shahzad Nawaz — NA-52 ICT-I
Ali Nawaz Awan — NA-53 ICT-II
Asad Umar — NA-54 ICT-III
Sadaqat Ali Khan — NA-57 Rawalpindi-I
Ghulam Sarwar Khan — NA-59 Rawalpindi-III
Sheikh Rashid Shafique — NA-60 Rawalpindi-IV
Sheikh Rashid Ahmed — NA-62 Rawalpindi-VI
Mansoor Hayat Khan — NA-63 Rawalpindi-VIII
Fawad Ahmed — NA-67 Jehlum II
M. Sanaullah Khan Mastikhel — NA-97 Bhakkar-II
Muhammad Hammad Azhar — NA-126 Lahore IV
Shafqat Mahmood Khan — NA-126 Lahore VIII
Malik Muhammad Amir Dogar — NA-155 Multan-II
Makhdoom Shah Mahmood Hussain Qureshi — NA-156 Multan-III
Zartaj Gul — NA-191 DG Khan-III
Faheem Khan — NA-241 Korangi Karachi III
Saif Ur Rehman — NA-242 Karachi East-I
Muhammad Alamgir Khan — NA-243 Karachi East-II
Syed Ali Haider Zaidi — NA-244 Karachi East-III
Aftab Hussain Saddique — NA-247 Karachi South-II
Atta-Ullah — NA-250 Karachi West-III
Aftab Jhangir — NA-252 Karachi West-V
Muhammad Aslam Khan — NA-254 Karachi Central-II
Muhammad Najeeb Haroon — NA-256 Karachi Central-IV
Muhammad Qasim Khan Suri — NA-265 Quetta-II
Reserve Seats
Aliya Hamza Malik — RS-Women
Kanwal Shauzab — RS-Women
Earlier on July 28, 2022, the speaker approved the resignations of 11 PTI members under Article 64(1) of the Constitution of Pakistan.
According to the notification, the NA speaker accepted the resignations of the following members of the lower house last year:
Ali Muhammad Khan — NA-11, Mardan-III
Fazal Muhammad Khan — NA-24, Charsadda-II
Shaukat Ali — NA-31, Peshawar-V
Fakhar Zaman Khan — NA-45, Kurram-I
Farrukh Habib — NA-108, Faisalabad-VIII
Ijaz Ahmad Shah — NA-118, Nankana Sahib-II
Jamil Ahmed Khan — NA-237, Malir-II
Muhammad Akram Cheema — NA-239, Korangi Karachi-I
Abdul Shakoor Shad — NA-246, Karachi South-I
Shireen Mehrunnisa Mazari — Reserved Seat for Women (Punjab)
Shandana Gulzar Khan — Reserved Seat for Women (Khyber Pakhtunkhwa)