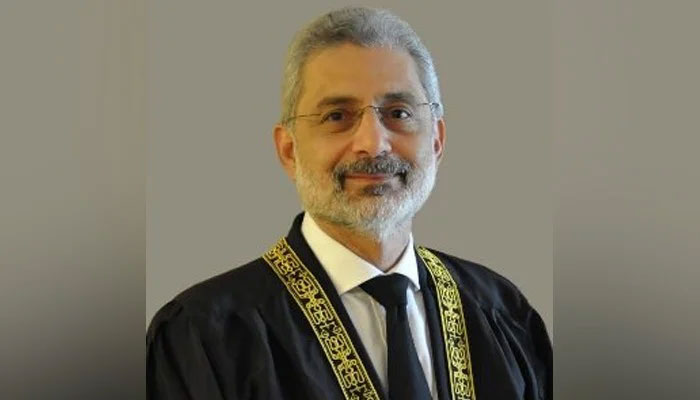 SC expresses displeasure over delay in AGP's appointment. 
Justice Isa calls govt "incompetent". 
Says govt violating Constitution by not appointing AGP.
---
The Supreme Court on Monday, while fuming over the delay in the attorney general of Pakistan's (AGP) appointment, told the federal government to fill the constitutional post. 
Justice Qazi Faez Isa gave remarks on the lack of assistance from the attorney general in a case related to tampered car. 
"We are asking you politely to appoint the attorney general," Justice Isa told the government during the hearing.
"Who is the attorney general in the country right now?" questioned Justice Isa. 
At this, the deputy attorney general failed to give a satisfying answer. 
"The government is so incompetent that it cannot even appoint an attorney general," said the Supreme Court justice. 
He questioned whether the government is bargaining with someone over the AGP's appointment. 
"The Supreme Court has 5,500 lawyers but the government cannot find a single one," he added. 
Justice Isa said that the government is violating the Constitution by not appointing the AGP, adding that the orders given by the apex court were not followed either. 
The court said that the additional attorney general and the deputy attorney general are bound to take instructions from the AGP only. 
"It is against the law for the deputy and additional attorney general to appear without instructions of the AGP," the court added.
'AGP to be finalised in 2-3 days'
On January 21, Federal Law Minister Senator Azam Nazeer Tarar said that the new attorney general will be finalised within two or three days. 
The judiciary had expressed displeasure with the government for not appointing the AGP after former attorney general Ashtar Ausaf Ali tendered his resignation in October last year due to health reasons.

President Dr Arif Alvi approved the appointment of Mansoor Usman Awan, who is a Supreme Court lawyer, as the AGP on December 23 after accepting Ausaf's resignation. However, he refused from taking charge.
"I am going to meet PM Shehbaz today (Saturday) and possibly the issue of appointing the new attorney general will be finalised within two or three days," Tarar said.
He revealed that first Awan consented to be the attorney general but later he verbally and in writing refused to accept the office, citing his professional engagements.
"I can't disclose the names of the new potential candidates, being nominated for the slot of attorney general but hopefully the prime minister will finalise the name within two to three days," he told The News.