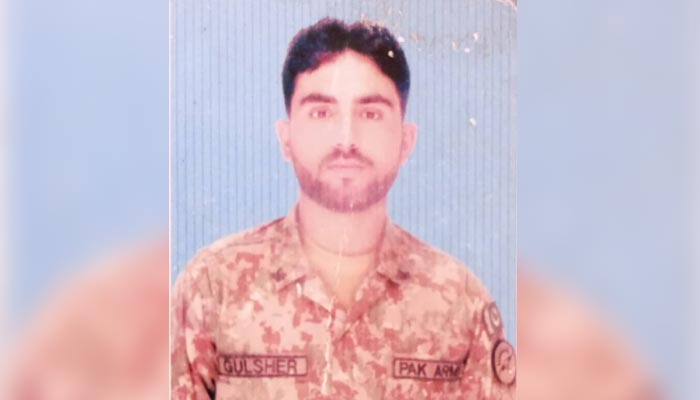 Martyred solider identified as Sepoy Gul Sher.
He was of 24 years, resident of Khyder district.
Area sanitisation underway to eliminate terrorists.
---
A security personnel was martyred in an improvised explosive device (IED) attack in the Jani Khel area of Khyber Pakhtunkhwa's Bannu district, the military's media wing said Monday.
In a statement, the Inter-Services Public Relations (ISPR) identified the martyred soldier as Sepoy Gul Sher — 24 years of age and a resident of the Khyber district.
"Sanitisation of the area is being carried out to eliminate any terrorists in the area," the military's media wing said, as the armed forces battle rising terror.
Attacks on security personnel and citizens, in general, have increased as several militant outfits have regrouped — posing a major threat to the country, which has battled terrorism repeatedly.
In November last year, the outlawed Tehreek-e-Taliban Pakistan (TTP) ended a ceasefire with Islamabad, following which, attacks increased not only in the country, but from across the Afghan border.
The TTP, according to reports, has regrouped in Afghanistan after the Taliban's takeover, with Pakistan repeatedly asking the interim government in the neighbouring country to ensure that its soil isn't used for terrorism.
But the Taliban-led government has not been able to live up to the expectations.
The activities of militants have been mainly focused in Balochistan and Khyber Pakhtunkhwa, with the former accounting for 31% of the attacks during the last year and the latter 67%, according to statistics provided by Interior Minister Rana Sanaullah.
The latest attack in the Bannu district comes almost a month after a soldier was martyred in a clash with terrorists as security forces conducted an intelligence-based operation (IBO).
Moreover in December last year, militants belonging to the outlawed TTP overpowered security personnel at a Counter-Terrorism Department (CTD) in Bannu.
The facility was cleared almost three days after the take over but left four soldiers martyred in the process, while 25 terrorists were also killed in the centre.
In response to the rising terror attacks, the National Security Committee (NSC) — the country's top security and foreign policy body — decided that no country will be allowed to provide sanctuaries and facilitation to terrorists and Pakistan reserves all rights to safeguard its people.
Moreover, Foreign Minister Bilawal Bhutto Zardari has said that the new leadership — both political and military — has ruled out talks with terrorist organisations that don't respect the country's laws and constitution.