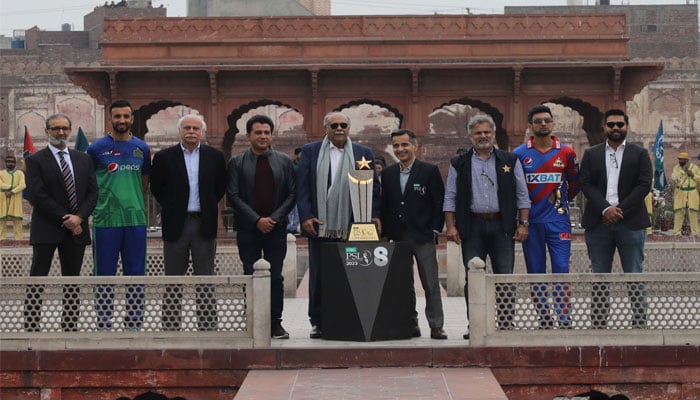 A brand new trophy was unveiled for the eight edition of the Pakistan Super League (PSL) by the Pakistan Cricket Board (PCB) on Thursday.
The 24-karat 'Supernova Trophy' was revealed at the Shalimar Gardens in Lahore. 

The ceremony was attended by the PCB Management Committee Chairperson Najam Sethi and elite cricketers among other people.

The trophy has been made in Pakistan and showcases the country's skilled craftsmanship.

The first match of the PSL 8 will be taking place on February 13 in which Lahore Qalandars and Multan Sultans would be facing each other at the Multan cricket stadium. The final would be played in Gaddafi stadium on March 19. 
The three pillars of the trophy represent the national cricket team's motto: Unity, Passion, and Strength, while the main pillar at the back is further embellished with crystals, representing the dedication and hard work that has gone into ensuring the team's success.
Sethi, while speaking on this occasion, said that PSL is very close to his heart and he is always committed to making it bigger, better and stronger each year.
"With this in mind, and to also celebrate the pinnacle PCB event taking place in front of home fans, we decided to design a new trophy that encompasses our spirit as a proud nation and launch it at the Shalimar Gardens, which is a national treasure and a symbol of pride for all of us," PCB chairperson highlighted.
"The Supernova Trophy is a testament to the passion and perseverance of Pakistani people and serves as a source of inspiration for future generations of players," he added. 
The PCB chief also said that the creation of this trophy was a true labour of love and, as the league continues to grow in success, further adding that "the trophy has become a symbol of excellence and achievement, something that players and teams strive to lift and hold aloft in victory each year". 
"I have no doubt this prestigious silverware will provide extra incentive and motivation to the players, which, in turn, will get the best out of them to make this year's event most exciting, enthralling and entertaining for all the cricket fans and followers within and outside Pakistan", Sethi remarked.