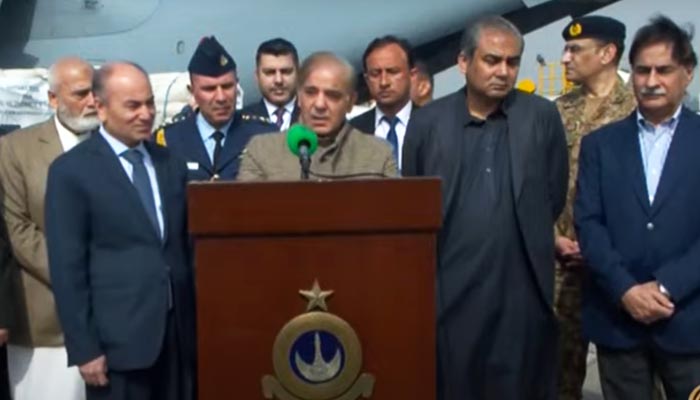 PM says Pakistan will never leave Turkey's side in this hour.
Says committee has been formed to send funds to Turkey.
Urges people, welfare organisations, businessmen to help raise funds.
---
Prime Minister Shehbaz Sharif on Friday announced that the federal government has allocated Rs10 billion to help Turkey's earthquake relief efforts, saying that Pakistan will continue to assist the calamity-hit country every day. 
A devastating 7.8 magnitude earthquake wreaked havoc in Turkey and Syria early morning on Monday that has so far claimed about 21,000 lives as hopes of finding more survivors faded.
Speaking at an airport in Lahore where relief goods were being sent for the earthquake victims, the prime minister said Pakistan will never leave Turkey in these circumstances, urging the nation to pray for the victims of the earthquake in Friday prayers today.
The premier said that thousands of people have been killed and wounded in Turkey and Syria and many are searching for their loved ones stuck under the rubble.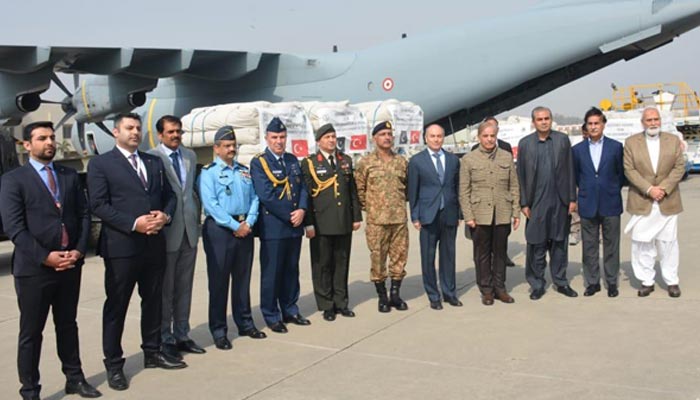 "I believe that the people of Turkey and Syria will come out of this difficulty," he said, adding that Pakistan assured Turkey of assistance the day when this tragedy took place.
He said that the Turkish president visited Pakistan at the time when the country was hit by heavy flooding and donated millions of dollars to the flood-affected people.
"A Pakistan Army team was sent the day when the earthquake hit Turkey and the dispatchment of the relief goods has begun," he continued.
He said that goods weighing 100 tonnes are being sent to Turkey in a truck today. 
The prime minister urged the people, welfare organisations and businessmen to take part in the fund collection drive. He also requested the chief ministers to help in this regard.
"A committee has been formed to send funds to Turkey. 1,486 tonnes of relief goods are being sent to Turkey and Syria," he added.
The premier said that 13 centres have been established in Pakistan for the collection of funds, adding that donations will also be collected in educational institutions across the country.
Earlier this week, Pakistan established a relief fund to help the victims of a deadly earthquake in Turkey. 
"To help the victims of the earthquake in Turkey at this difficult hour, PM Shehbaz Sharif has decided to establish PM Relief Fund," Information Minister Marriyum Aurangzeb said Tuesday after a plane load of relief goods and rescue team from Pakistan reached Turkey.
The minister said that the federal cabinet has announced to contribute one month's salary while the PM has appealed to the philanthropists to extend help.