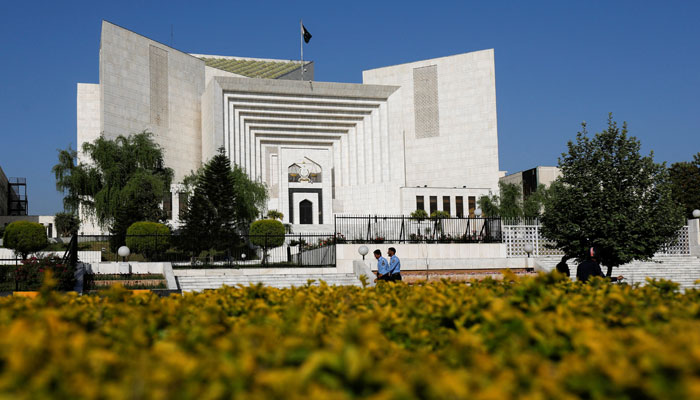 Why ECP is consulting governor, asks SC judge.
ECP informs SC of its delegation's meeting with governor.

Apex court seeks progress on LHC order regarding elections.
---
ISLAMABAD: Chief Justice Umar Ata Bandial on Wednesday directed the Election Commission of Pakistan (ECP) to implement the Lahore High Court's (LHC) orders on general elections in Punjab.
The directives were issued by the Supreme Court when it took up the petition of the Punjab Assembly lawmakers that were de-seated for not towing the party lines. The plea was dismissed as the petitioner informed the bench that it was inadmissible following the dissolution of the assembly.
At the outset of the hearing, CJP Umar Ata Bandial observed that the issue of restoring the dissident lawmakers was over as the assembly had been dissolved.
The CJP then asked the Election Commission what it was doing on the directives issued by the high court to give a date for the elections.
At this, ECP's director-general of law told the bench that a delegation of the commission had met Punjab Governor Baligh Ur Rehman on the issue a day earlier. He added that the governor had directed the ECP to seek further clarity in this regard.
"The legal way has to be taken by the governor or the Election Commission?" asked CJP. The ECP official said that it was the governor's domain.
At that point, Justice Ayesha Malik interjected and asked why the ECP was consulting with the governor.
"Does the Constitution make it liable for the ECP to consult the governor before the polls?" she asked.
Meanwhile, CJP Bandial told the ECP counsel that the high court had asked them to hold elections and they should implement its order.
To this, ECP's DG law informed the bench that the court had also directed them to consult with the governor.
"If the high court has given this order then follow it," remarked CJP Bandial and disposed of the plea.
LHC directs ECP to hold polls within 90 days
Last week, the high court had directed the commission to ensure that polls in Punjab are held within 90 days.
Announcing the reserved verdict, Justice Jawad Hassan accepted the PTI's plea and asked the electoral body to hold the polls within the constitutional limit.
"...the ECP is directed to immediately announce the date of election of the Provincial Assembly of Punjab with the notification specifying reasons, after consultation with the Governor of Punjab, being the constitutional Head of the Province, to ensure that the elections are held not later than ninety days as per the mandate of the Constitution," the judgment read.