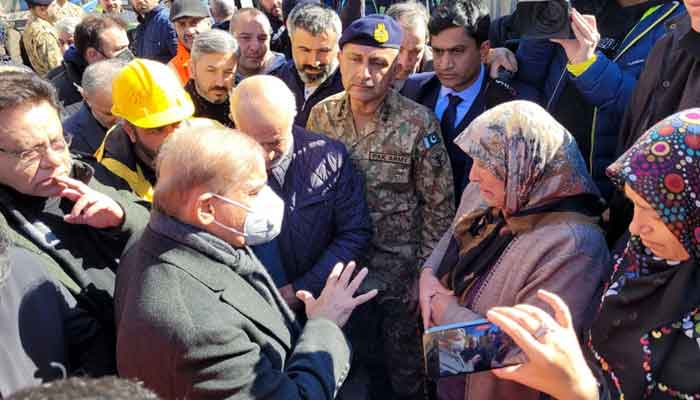 PM hands over winterised tents to Turkish officials. 
Premier interacts with victims of earthquake, offers sympathies.
PM hopes Turkey will overcome challenging times with resilience.
---
ADIYAMAN: Prime Minister Shehbaz Sharif said Friday that Pakistan would continue to provide maximum assistance to Turkey in its post-earthquake rehabilitation and reconstruction phases.
The prime minister expressed these views as he handed over the relief goods — mainly the winterised tents — to the Turkish officials, during his visit to Adiyaman city following the massive earthquake that claimed more than 36,000 lives and left the country reeling.
A special aircraft of the Pakistan Air Force (PAF) transported relief goods to Adiyaman, the most-affected area in southeast Turkey that suffered heavy damage from the powerful earthquake of February 6. 
The premier interacted with the victims of the earthquake who lost their families and conveyed to them sympathies on behalf of the Pakistani nation.
PM Shehbaz, on the occasion, assured the Turkish government and the victims that Pakistan would extend every possible cooperation to the brotherly country to cope with the devastation.
He termed Turkey as the friend and brotherly country of Pakistan and hoped that the country would overcome the challenging times with resilience.
He also met the rescue teams from Pakistan that took part in the search operation.
Earlier on his arrival at Adiyaman airport, the prime minister was received by Turkish Trade Minister Mehmet Mus, Minister for Communication Adil Ismailoglu, Governor of Adiyaman Mahmut Cuhadar, President of Turk-Pakistan Friendship Group in the Turkish parliament Ali Shaheen, and senior officials.
The prime minister arrived in Turkey's capital Ankara on Thursday on a two-day visit in a special gesture of solidarity with the Turkish nation.
The federal cabinet has also decided to send 20,000 quilts to the earthquake victims and directed the Finance Department to release Rs50 million for the purpose.
Pakistan mobilised relief assistance for both Turkey and Syria in the wake of the massive earthquake. The country sent an 85-member urban search and rescue team, a 10-member search and rescue team, and a 10-member medical team to support the relief efforts.