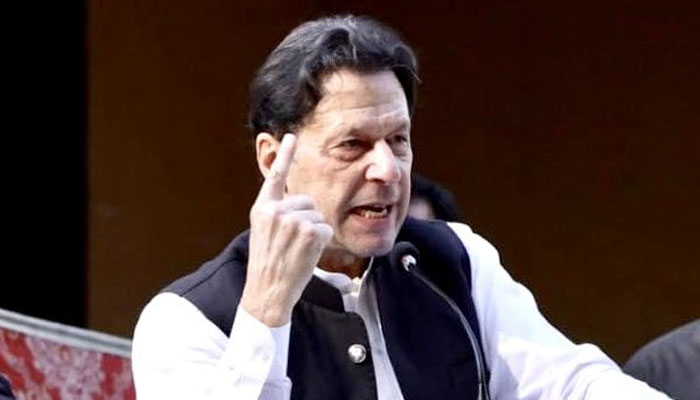 "Imran Khan spreads hate against institutions and their officers," says PEMRA.
PTI chief statements "may cause a law and order situation in the country".
"Imran Khan is continuously alleging state institutions by levelling baseless allegations."
---
In view of his "provocative statements against the state institutions and officers", the Pakistan Electronic Media Regulatory Authority (PEMRA) on Sunday imposed a ban on broadcasting live and recorded speeches of Pakistan Tehreek-e-Insaf Chairman Imran Khan on all satellite TV channels with immediate effect.

The decision came hours after the ousted prime minister — removed from power via a no-confidence move in April last year — delivered a hard-hitting speech outside his Zaman Park residence in Lahore following a police team's arrival there to arrest him in the Toshakhana case.

In its notification, the media watchdog directed all the TV channels to refrain from airing Khan's live or recorded statements, speeches and conversations.
"Imran Khan is continuously alleging state institutions by levelling baseless allegations," it added.
The notification further said that the PTI chief, through his incendiary statements, spread hate against the institutions and their officers. His statements may cause a law and order situation in the country, it added.
The media regulatory authority, on February 21, also banned television channels from coverage of terror attacks.
The directives had come in continuation to the earlier orders on the subject asking TV channels to adhere to the provisions of the PEMRA Electronic Media Code of Conduct 2015.
Last year in August, the regulatory authority imposed such restriction on Khan speeches but the ban was lifted on the orders of the Islamabad High Court (IHC) on September 6.
In November last year, the PTI leader's speeches were again banned but the restrictions were withdrawn by the federal government on the same day.