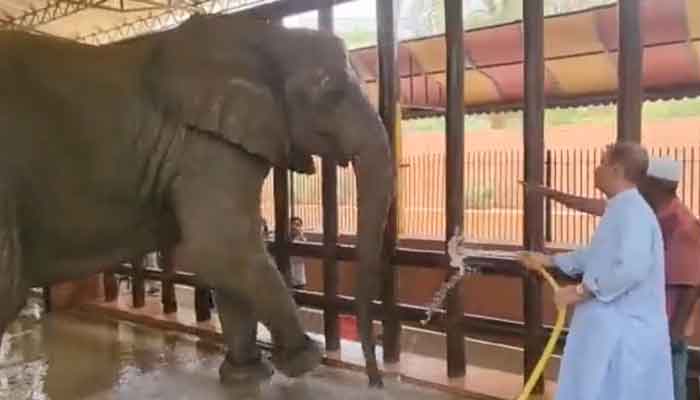 Following the devastating death of elephant Noor Jehan, Karachi Administrator Dr Saifur Rehman on Tuesday said that the authorities concerned are allocating more than an acre of land for the other mammal, Madhubala at Safari Park. 

Speaking to media persons, Dr Rehman said that a container will be prepared for Madhubala and she will also be given training. He added that various tests have been conducted on the elephant. 
"It is not easy to transfer an animal. However, they will be provided with the best facilities at Safari Park," said the administrator, adding that a team of Four Paws being headed by Dr Amir Khalil is also visiting the location. 
Dr Rehman said that the postmortem report of the deceased elephant Noor Jehan will come in a month. He also said that animal breeding is also under consideration. 
FOUR PAWS International's Dr Amir Khalil said that Dr Rehman is doing an excellent job. 
"Arrangements have been reviewed here [Safari Park] before Madhubala's transfer," said Dr Khalil. 
He said that this site hasn't been used for 50 years and is a complete jungle, adding that the first phase is completed.

"We also hope to see other animals here. We will meet after two months," he said. 
Madhubala at risk
Following the death of Noor Jehan, the zoo administration said that Madhubala, is at risk as she could contract the virus from Noor Jehan as she had passed away due to a "dangerous virus".
Karachi Zoo director Kanwar Ayub said that Madhubala's transfer to Safari Park has been postponed and several tests will be conducted for the elephant.
Madhubala will be screened and her blood samples will be taken, added the director. Her samples will be sent to a laboratory in Lahore.
Ayub said that the elephant will be shifted to Safari Park if her health reports are fine as the other two elephants — Sonia and Malika — may also be affected.