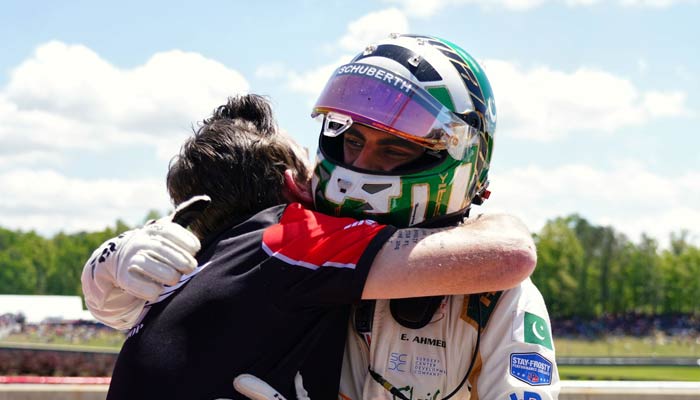 LONDON/BIRMINGHAM, ALABAMA: British-Pakistani formula racer Enaam Ahmed has achieved the highest-ever position for a Pakistani driver in international racing as he finished the Alabama Grand Prix in fourth place, becoming the first Pakistani to finish Top 5 in a Grand Prix.
The race was held at Barber Motorsports Park — the top-level motor racing series in the United States.
The competition was attended by 18 drivers, who are considered amongst the best in the world.
In what was only his second start in the Firestone IndyNXT Championship, the final frontier before Indy cars, Ahmed battled not only hard but also smart to grab the fourth-place finish at Barber Motorsports Park.
After the final results were announced, an elated Ahmed said: "I am very happy with the result and the efforts put in by my team Cape Motorsports, especially as this is their first year in this series. I picked up a lot of points and was pleased to finish ahead of the championship leader. There were some issues in the first 3-5 minutes but I was able to overcome these and there was no looking back."
The racer added: "It's a matter of pride for me that I fly the flag of Pakistan on my car."
Ahmed started from ninth on the grid in a field of 18 drivers. A clean and smart drive put him in 6th place after the race was re-started following a crash. On the final lap, he was able to move up to fourth, which is a historic day for Pakistan motorsports as this is the best-ever finish in the top tier of international motor racing by a Pakistani driver.
Ahmed has been making history since his karting days. He is also a British Formula 3 Champion, the first-ever high-level Formula Championship winner in the history of Pakistan. Emaan during the championship, He also beat the record of Ayrton Senna by winning 13 races in one season.
The 23-year-old is going places around the world with his winning streaks on the dangerous tracks, driving cars at an average of 200 miles per hour — making sure that his car carries both British and Pakistani flags. Ahmed is one of the brightest and most exciting young racing talents in motorsport.
He has been winning championships and breaking records since the age of 14 and is the most successful Pakistani heritage racing driver ever in the history of motorsport.
Ahmed's epic journey will continue at the Indianapolis Motor Speedway road course on May 13.