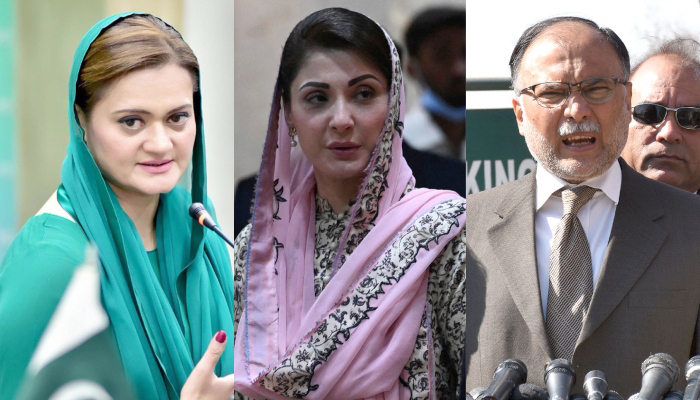 Maryam Nawaz demands CJP resignation, asks him to join PTI.
I wish Supreme Court was there during 2018-2019: Ashan Iqbal.
Hina Butt criticises CJP for making Imran Khan a guest of SC.
---
As soon as the Supreme Court ordered former prime minister Imran Khan's immediate release, the ruling Pakistan Muslim League-Nawaz (PML-N) leaders fired a broadside at the country's top judge for granting relief to the PTI chief in a graft case.
In a major relief for the deposed premier, the apex court on Thursday declared his arrest illegal and ordered authorities to release him "immediately".
A three-member bench — headed by CJP Bandial and comprising Justice Athar Minallah and Justice Muhammad Ali Mazhar — issued the verdict on PTI's petition challenging Khan's arrest.
Reacting to the verdict, PML-N Chief Organiser Maryam Nawaz criticised Chief Justice Umar Ata Bandial, asking him to step down from the post and join the opposition party — PTI.
"The chief justice was very happy today to meet the criminal who plundered Rs60 billion from the national exchequer and he [CJP] was even more happy to release this criminal," the PML-N leader said while referring to the CJP remarks during the hearing.
The key party of the ruling alliance of the Pakistan Democratic Movement (PDM) — a group of 13 political parties — further held the top judge responsible for the attacks on the state installations during the violent protests following the arrest of Imran Khan in the Al-Qadir Trust case on Tuesday.
At least nine people died and dozens of others were injured during the two-day countrywide protests with rioters damaging public properties and storming the military installations.
"..[the CJP] is acting as a shield of a fitna [rabble-rouser Imran Khan] and is pouring fuel on the fire in the country. You should leave the post of chief justice and join the Tehreek-e-Insaf like your mother-in-law," she added.
In a brief statement on Twitter, Planning Minister Ahsan Iqbal while referring to the crackdown on opposition leaders during the last PTI tenure said: "I wish this Supreme Court was there even during 2018-22!"
"It is highly condemnable to make someone who has damaged state buildings in the country and caused loss of billions of rupees as a guest of the Supreme Court," wrote PML-N leader Hina Parvez Butt on Twitter.