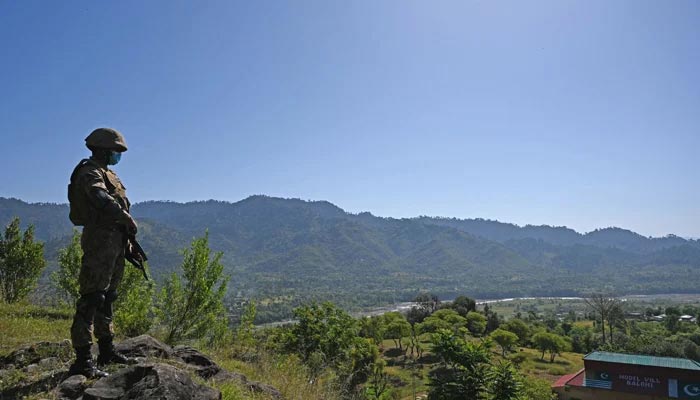 RAWALPINDI: A soldier was martyred as security forces thwarted terrorists' attempt to disrupt the ongoing polio campaign in the North Waziristan District of Khyber Pakhtunkhwa, the military's media wing said on Wednesday.
According to the Inter-Services Public Relations (ISPR), terrorists fired on the members of a polio team, employed in the general area Spinwam of North Waziristan.
However, the security forces deployed with the team "effectively engaged terrorists' location ensuring the safety of all members of the team and extricated them unharmed".
The martyred soldier was identified as 25-year-old Sepoy Saqib Ur Rehman of District Mardan.
The military's media wing also said that sanitisation of the area is being carried out to eliminate any terrorists found in the area.
"Security forces of Pakistan are determined to eliminate the menace of terrorism and such sacrifices of our brave soldiers further strengthen our resolve," the ISPR said. 
Moreover,  while addressing an award ceremony for martyrs and officials at the General Headquarters (GHQ) Rawalpindi on May 22, Chief of Army Staff (COAS) General Asim Munir emphasised that "every soldier and officer of the armed forces put his duty and responsibilities first regardless of regional, linguistic, and political prejudices and distinctions".
A strong army is the guarantor of a country's security and unity, he added.
In a statement, the military's media affairs wing said that 51 officials were awarded the Sitara-e-Imtiaz (military), 22 were awarded the Tamgha-i-Basalat and two officials were awarded special United Nations medals.
They were awarded for their "acts of gallantry during operations and meritorious services rendered to the nation".
"Undoubtedly, we are living in a free atmosphere due to the martyrs' sense of duty and their great sacrifices," Gen Munir said. He termed the martyrs' sacrifices and officials' services a "valuable asset" and "source of pride" for the country.