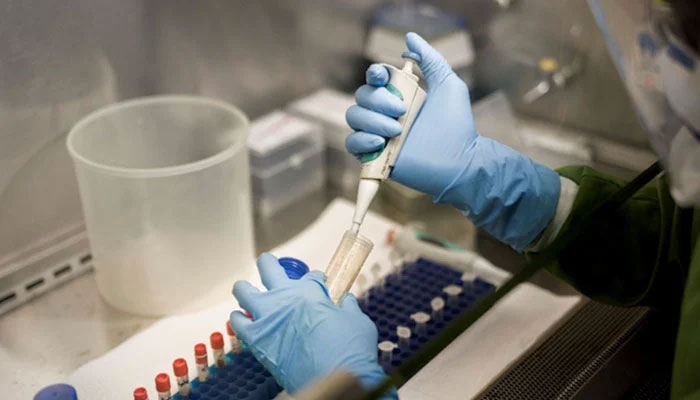 Poliovirus found in environmental samples collected from Gadap Town.
This is first sample tested positive for virus in Karachi this year. 
Polio virtually eradicated from world except in Pakistan, Afghanistan.
---
The environmental sample collected from Karachi's Gadap area last month has tested positive, head of polio programme Dr Shahzad Baig said in a statement on Thursday.

He said the virus was detected in environmental samples collected from Karachi's Gadap Town UC-4 in the Sohrab Goth area on May 15 this year.
The polio programme chief said the disease was successfully limited to southern districts of Khyber Pakhtunkhwa and added that this was the first case reported from Karachi this year so far.
Earlier, the positive environmental samples were reported in Lahore, Hangu, Peshawar, DI Khan and upper South Waziristan, Dr Baig added.
Last week, the Pakistan Polio Laboratory, National Institute of Health (NIH) confirmed that two environmental samples collected from the Peshawar district of KP province tested positive for wild poliovirus.
According to the lab, the wild poliovirus type 1 (WPV1) was found in sewage samples collected from Naray Khuwar and Larama collection sites on May 9 and May 16, respectively.
It added the isolated viruses are genetically linked to the virus cluster circulating in the neighbouring Nangarhar province of Afghanistan.
Polio has been virtually eradicated from the world.
However, this has not been completely eliminated from Afghanistan and in some parts of neighbouring Pakistan due to inaccessible areas, mass displacement and suspicions of foreign interventions that hindered the eradication efforts.