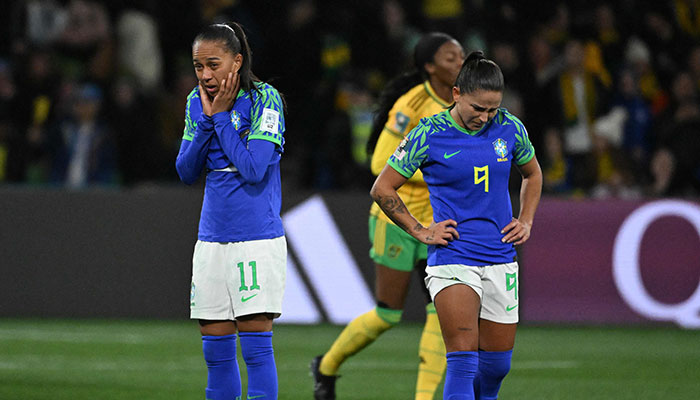 Jamaica's Women's World Cup journey took an incredible turn as they secured a spot in the last 16 for the first time, leaving Brazil stunned after a goalless draw in a tense match at Melbourne's Sophia Gardens.
The Reggae Girlz displayed a resolute defensive performance, cementing their impressive campaign with yet another chapter of success.
Ranked 43rd in the world, the Jamaican team showcased their determination by keeping three clean sheets in the group stages of their second World Cup, a marked improvement from conceding 12 goals in three defeats during the 2019 competition. 
Manager Lorne Donaldson expressed his team's excitement and satisfaction, emphasising that this was the farthest they had ever come in the prestigious tournament.
Reflecting on their previous appearance in the 2019 World Cup, Donaldson recalled that they were new to the event and content with merely participating. However, this time around, their approach was different as they set ambitious goals and proved that nothing was impossible with the right mindset and determination.
Brazil, a formidable opponent, had striker Marta back in the starting XI. The all-time leading scorer in men's and women's World Cups with 17 goals, Marta's sixth tournament came to an end as Brazil suffered their first failure to progress to the knockout stage in 28 years.
In a rain-affected match, Jamaican opener Luke Wells demonstrated exceptional form, smashing an impressive 57 runs off just 23 balls, setting a solid foundation for Welsh Fire at 94-3.
Jamaica's journey to the last 16 began with a hard-fought goalless draw against group favourites France, followed by a crucial 1-0 win over Panama, even without star striker Khadija Shaw, who was suspended after a red card in the opening match. Shaw returned for the match against Brazil, providing Jamaica with a potent threat on the counter-attack.
While former Arsenal centre-back Rafaelle Souza put up a valiant defence against Shaw, the Jamaican presence on the field caused problems for Brazil. Although Jamaica had only one real chance to score, Brazil struggled to penetrate their well-organised defence, resulting in a frustrating outcome for the South American champions.
After the match, emotions ran high among the Jamaican players, with captain Shaw moved to tears of joy. The team's success comes amidst their ongoing battle with their own federation, advocating for necessary changes. 
Goalkeeper Becky Spencer highlighted the significance of their achievements in the face of adversity, hoping their triumph would inspire positive changes within their federation.
Jamaica's triumph on the pitch coincides with their country's upcoming Independence Day celebration, and their historic performance has undoubtedly given Jamaicans a reason to celebrate. 
Fans back home have shown immense support for their team, and the Reggae Girlz hope their success will encourage further development and recognition of women's football in Jamaica. 
The team's remarkable journey has already ignited national pride and calls for positive change in the sport, and they intend to continue spreading their message as they advance in the Women's World Cup.