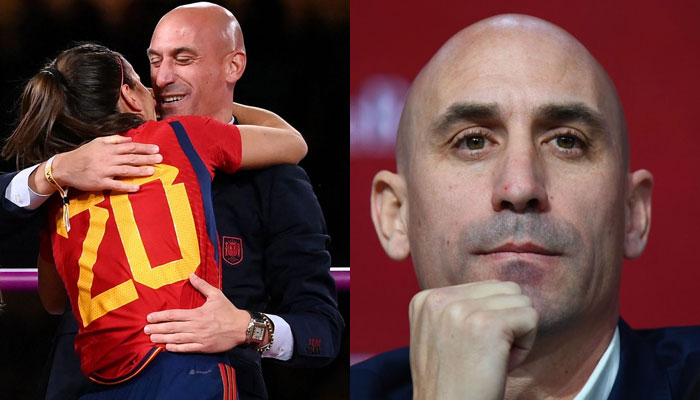 President of the Spanish Football Federation (RFEF) Luis Rubiales apologised for kissing star player Jenni Hermoso on the lips after Spain won the FIFA Women's World Cup 2023.
A global reaction was provoked after the 45-year-old Rubiales kissed Hermoso on the lips after she collected her medal.
In a video posted on Spanish television, Rubiales said: "Certainly I made a mistake and I have to acknowledge that."
"It was done without any ill intention in a moment of the highest exuberance. Here we saw it as natural and normal but outside it has caused a commotion."
He added that he had no choice but to apologise and learn from this, and be more careful when representing the federation.
Earlier on Monday, Spain's sports minister had demanded an apology from Rubiales.
Acting minister Miquel Iceta told Spanish public radio: "I think it is unacceptable to kiss a player on the lips to congratulate her."
Iceta added: "The first thing he has to do is to give explanations and make apologies, it is the logical and reasonable thing to do."
The minister added that while the world cup victory over England was "a moment of intense emotions", public officials "have to be extremely careful because we are giving a message to society and the message is equal rights, it is respected".
Rubiales on Monday stressed that he had a "magnificent relationship" with Hermoso.
In an Instagram live video – a clip of which was shared by Spanish journalist Irati Vida on X, the Spanish player said: "Hey, I didn't like it, eh," while answering questions about the incident.
Hermoso spoke of the kiss on Sunday on the radio program 'El Tiempo de Juego' on Cadena COPE, saying "she didn't expect it" but that "it was because of the emotion of the moment, there's nothing more there. It's just going to be an anecdote [of the time]. I'm sure it won't be blown up more."
She was asked about the incident by Radio Marca too, to which she replied: "The kiss with Jenni? There are idiots all over. When two people have a moment of affection without any importance, we can't listen to idiocy. We're champions and I stay with that."