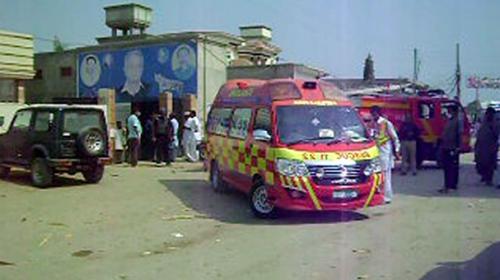 DG KHAN: A suicide bomber blew up his explosives at the political office of Pakistan Muslim League - Nawaz (PML-N) lawmaker Amjad Farooq Khosa in Tonsa Sharif area of Dera Ghazi Khan district on Wednesday, killing at least seven people, officials said.
According to Ghulam Mubashir Maken, the District Police Officer (DPO) in DG Khan, at least seven people were killed and between 15 and 20 people were injured in the blast.
"A suicide bomber detonated his explosives at the political office of MNA Amjad Farooq Khosa in Tonsa Sharif," said DPO Ghulam Mubashir Maken.
"The attacker also had a hand grenade with him," he told reporters at a press conference.
The DPO said the suicide bomber blew himself up after he got in between the people at the office.
Eyewitnesses said that over 100 people were present at the office at the time of the blast, but the PML-N MNA was not there and remained safe.
Maken said that Khosa had not received any threats prior to the attack.
The dead also included two PML-N candidates for the upcoming local government elections.
Police officials said that several people were critically injured, fearing that the number of casualties may rise.
The explosion was so powerful that it could be heard from far and wide.
Sardar Muhammad Amjad Farooq Khan Khosa, who is a cousin of former Punjab governor Sardar Zulfiqar Khosa, was elected from the NA-171 DG Khan seat on a PML-N seat in the 2013 general elections.
Speaking to Geo News from Islamabad, Khosa confirmed that he has been in the federal capital since the past two days.
Khosa also confirmed that he had not received any threats before the attack.
The bombing comes months after PML-N lawmaker, Punjab home minister Colonel (retd) Shuja Khanzada, was martyred in a suicide attack on his political office in his native Shadi Khan village in Attock.