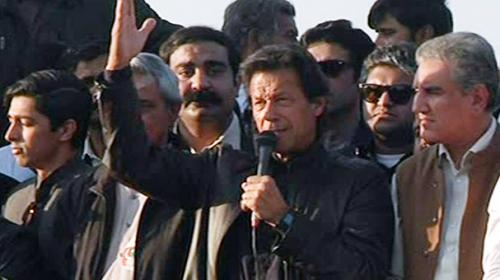 LODHRAN: Imran Khan, who heads the ruling Pakistan Tehreek-e-Insaf (PTI) in Khyber Pakhtunkhwa, announced on Thursday that no VIP will be allowed to disrupt the flow of traffic in the province.
Speaking at a rally organised to celebrate Wednesday's victory of Jahagir Tareen against PML-N's Siddique Baloch in the NA-154 by-poll here, he said traffic will not halt for any VIP even if that VIP was the prime minister.
Khan said that his party has decided to end the VIP culture from Khyber Pakhtunkhwa.
The announcement comes a day after a 10-month-old baby girl died due to VIP security protocol provided to Pakistan People's Party (PPP) Chairman Bilawal Bhutto-Zardari at Karachi's Civil Hospital.
The toddler died because of not getting prompt medical attention after her father was stopped from entering the hospital due to security restrictions set up for the PPP chairman, who was present there to inaugurate "Shaheed Mohtarma Benazir Bhutto Trauma Centre".
Commenting over the issue of Rangers' special powers in Sindh, the PTI chairman said in his speech today that Pakistan People's Party (PPP), Muttahida Qaumi Movement (MQM), PML-N and 'Maulana' (Fazlur Rehman of JUI-F) were two sides of the same coin and wanted to save the prevailing corrupt system.
Whereas, he added his party wanted to bring about a new fair and transparent system in the country.
"PPP and MQM will not be able to save their militant wings anymore," said Khan.
Addressing the Chief Election Commissioner (CEC), he said the NA-122 case was about to appear before him and the nation he said was expecting dispensation of justice from him.