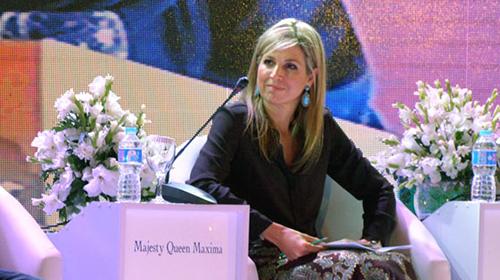 ISLAMABAD: Appreciating Dutch Queen Maxima's devotion to promoting financial inclusion for development, Prime Minister Nawaz Sharif Tuesday said her visit to Pakistan would provide an added stimulus to all stakeholders to achieve the goal with full zeal and spirit.
The prime minister was speaking to Queen Maxima of the Netherlands – also UN Secretary General's Special Advocate(UNSGSA) for Inclusive Finance for Development – who called on him at the PM House.
Welcoming the Queen, the premier said that Pakistan values its relations with the Netherlands both bilaterally and within the context of the European Union.
He said that his government was prioritizing financial inclusion as a national objective through the National Financial Inclusion Strategy (NFIS) and Pakistan was committed to ensure successful implementation of the strategy.
Nawaz Sharif said the development agenda of the present government was based on the principle of inclusive economic growth and use of digital technology.
"Prime Minister's Youth Loan Scheme is yielding significant dividends in encouraging sustainable inclusive growth by investing in the country's human capital and empowering women," the prime minister added.
Queen Maxima appreciated the successful march of Pakistan's economy under the visionary leadership of Prime Minister Sharif and reiterated support for Pakistan's economic revival.
Appreciating Prime Minister Sharif's efforts in ensuring use of digital technology in Financial Inclusion for Development, the Queen said that greater access of women to smart phones would help a great deal in empowering women in Pakistan.