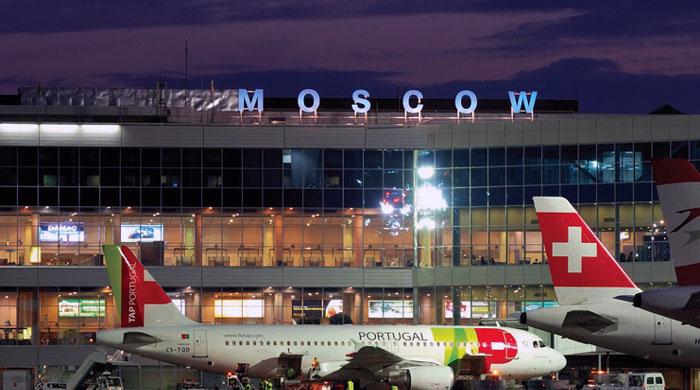 MOSCOW: At least 138 Pakistani nationals were detained by security forces at the airport in Russia for over 22 hours before some of them were sent back to Pakistan.
The Pakistanis were mobile phone dealers and had arrived in Moscow to attend an annual convention. Sources said that some of them were kept in a room without food and water for hours. Of the detained persons, 80 belonged to Karachi, 35 are from Lahore and the rest from Islamabad.
According to latest updates, 48 Pakistanis have been sent back to Pakistan via different flights. According to sources, the 48 have already reached Turkey.
90 Pakistani traders are still stranded at two different airports in Russia. Sources say that efforts are underway to bring the remaining Pakistanis back to the country.
It is expected that the stranded Pakistanis will return tonight, a statement from the Foreign Office said.
Special assistant to Prime Minister, Tariq Fatemi has contacted Pakistan's Ambassador to Russia on the directives of the Prime Minister and the Pakistan embassy is helping stranded Pakistanis. "The embassy has gotten consular access to Pakistanis stranded in Moscow," a statement from the Foreign Office read.
According to Russian officials, the traveling Pakistanis did not have confirmed hotel bookings prior to their arrival. The officials said that confirmed bookings and 100 percent payment is necessary prior to arrival in the country.
Speaking to Geo News earlier, Pakistan's Ambassador to Russia Qazi Khalilullah said that the embassy was informed about the detained passengers at 8pm on Wednesday night. "We are trying to control the situation. A Russian-speaking official of the Pakistan embassy has been posted at the airport," he said.
A video posted on social media by one of the detainees showed the group of Pakistanis in a small room with barely enough space to fit in. The man recording the video claimed that some Turkish nationals were also detained earlier but they were later let go.
Security at airports across the world has been beefed up following an attack on an airport and metro station in Brussels on Tuesday which killed at least 31 and injured hundreds.
Authorities in Belgium have identified two suicide bombers who carried out the attacks as Brussels residents Ibrahim and Khalid El Bakraoui. A third accomplice in the Brussels bombings — Najim Laachraoui, a veteran Belgian fighter in Syria suspected of also making explosive belts for November's Paris attacks — is still at large.