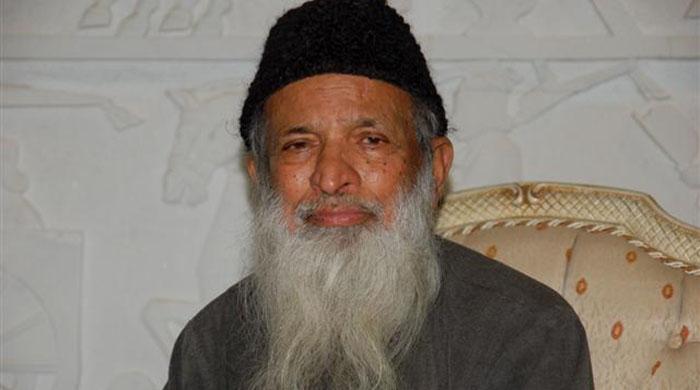 KARACHI: In a befitting tribute to the best of this country, the Pakistan Post Office Department (PPOD) released a Rs20 commemorative postage stamp featuring the legendary humanitarian, Abdul Sattar Edhi, on the occasion of the country's 70th Independence Day.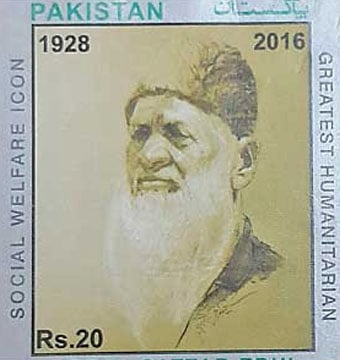 Edhi, a world renowned philanthropist and social worker who founded the Edhi Foundation, passed away in Karachi on July 8 this year. 
Prime Minister Muhammad Nawaz Sharif on had directed the postal division to issue the stamps in remembrance of the famed philanthropist and humanitarian after his death. 
The PPOD had announced its plans to release the stamp on Independence Day and a ceremony was held on Sunday at the Edhi Home in Mithadar where the postmaster general for Sindh, Muhammad Ikhlaq Rana, and the eminent humanitarian's son, Faisal Edhi, unveiled the commemorative postage stamp.
Bilquis Edhi, the wife of Abdul Sattar Edhi who remains a driving force for the entire Edhi Foundation, appreciated the gesture and praised the PPOD's efforts.
As per a communiqué issued by PPOD, a total of 0.2 million copies have been printed of the 50x41mm Edhi commemorative stamp. The design by Adil Salahuddin features a sketch of Edhi by Professor Saeed Akhtar.
Printed by the Pakistan Security Printing Corporation, Karachi, the stamp is now available for sale at all important post offices across the country.
Commemorative postage stamps have previously been issued in honour of former heads of state, entries into statehood, historical events, historic sites, famous people, native flora and fauna. Similarly, stamps have been released in support of causes, such as to raise awareness of rare medical conditions, environmental issues and the like.  To date, Pakistani governments have issued around 1,500 stamps since the country's independence in 1947, of which around 250 feature notable personalities. - Originally published in TheNews