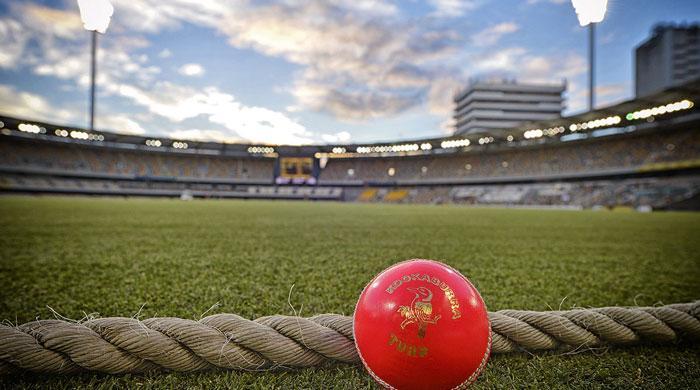 SIALKOT: As cricket stages its second day-night Test this week, factory workers in Pakistan will be among the avid television viewers -- for they might have made the innovative pink balls being used by their heroes.
Pakistan hosts West Indies in Dubai in a five-day/night Test featuring the pink ball, starting Thursday.
It is a match that will be closely followed in Sialkot, the city that is the country's sports manufacturing hub.
Pakistan's sports goods industry is positioning itself to be the top supplier of the new pink balls aimed at dragging the traditional format -- the five-day game -- into the 21st century.
"We are probably making 15,000 to 20,000 pink balls per year. The numbers of pink balls are growing," said Khawar Anwar Khawaja, chief executive of Grays of Cambridge, who have been making cricket balls since 1953.
The high visibility balls made their Test debut last year when Australia played New Zealand in Adelaide, to mixed reviews.
But cricket's bosses are committed to increasing the number of day/night Tests as they bid to reverse the trend of falling attendances.
After years of trials, the governing body have plumped for pink to replace traditional red under lights, as it is visible against both dark skies and the traditional Test-match white kits.
Two major factories and dozens of small units in Sialkot are on the case.
New colour, old format
"Last year we produced about 120,000 cricket balls (all colours), but our demand is growing. We hope to do this year minimum hopefully around 150,000 balls," Khawaja added, beaming with pride as his workers stitched the balls by hand behind him.
Test cricket is the sport's longest format with matches that despite being scheduled for five days of play, can still end in a draw.
With breaks for lunch and tea, Tests evoke a bygone era and are losing support to the modern, shortest, form of the game, Twenty20.
The high-octane Twenty20 matches last around three hours, feature coloured kits, live performances, loud music and cheerleaders.
The first ever Test match was played in 1877 between England and Australia.
Outside of these two countries and India, filling stadiums across five days and attracting advertisers has increasingly become a problem.
Pakistan in particular has suffered because it has been forced to play its home fixtures in neutral venues such as the United Arab Emirates since militants attacked the touring Sri Lanka team's bus in Lahore in 2009.
Misbah-ul-Haq, Pakistan's celebrated captain who last month took them to number one in the rankings, is a firm believer that the "future belongs to night Tests".
"Since the game is played for the fans and for the audience, this night cricket is the future and it's definitely good for cricket," he told reporters last week.
Proud history
The history of sports goods manufacturing in Sialkot dates back to the 19th century when locals first began to produce footballs for the British army, then the occupying power.
Today, the city's sports exports are worth $900 million annually, according to official figures, and have supplied balls for international competitions such as 2014 FIFA World Cup.
Established in 1953, Grays of Cambridge is Pakistan's premier brand and produces red, white, pink and orange balls for the leading markets in Australia and England for top international brands such as Dukes and Gray-Nicolls.
And local manufacturers expect a deluge of orders.
"We have been producing pink for the last seven (or) eight years and exporting them to mainly Australia and to England as well," said Khawaja.
Cricket balls, weighing between 142 to 163 grams depending on the category are sold for between $4 and $25.
They are stitched from four leather pieces which are converted into two round shaped cups after colouring the raw leather -- usually from cattle -- and moulding it on machines, before the final stitching by hand or machine.
The balls are then wrapped in crystal polythene covers and packed in hardboard boxes -- ready to be shipped overseas.
The use of pink balls has been trialled by some domestic leagues, but has had its share of teething problems.
Both the Australian and New Zealand teams complained about the pink ball's ability to swing (move in the air) and that it became too soft too soon, making it harder for batsmen to score runs.
Misbah, however, said players would adapt to the conditions in time.
"Since the game is played for the fans and for the audience, this night cricket is the future and it's definitely good for cricket," he said.
"The more frequently we play under lights, it will give more exposure and allow players to get used to it."