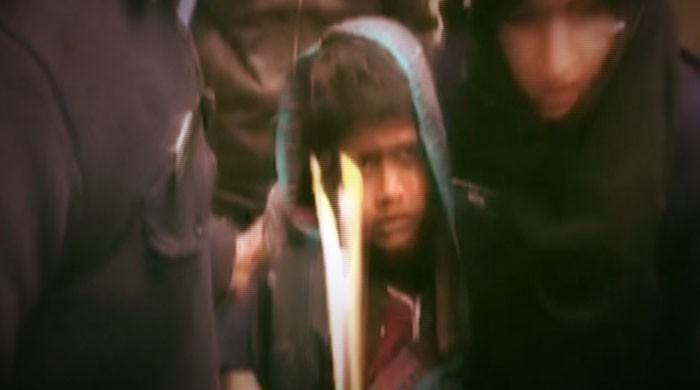 The case of the alleged torture of 10-year-old child maid Tayyaba took a new turn on Thursday when the minor girl disappeared along with her father.
Relatives of Tayyaba – who was allegedly tortured while working at the residence of an Additional Sessions Judge in the federal capital – earlier made contradicting claims of the child being taken to Karachi and Faisalabad, while the girl's grandfather said she was still in Islamabad.
Speaking to Geo News earlier, Tayyaba's aunt revealed that she was taken to Karachi by her parents on Wednesday. She added that Tayyaba's paternal grandmother and another aunt live in the metropolis.
Later, it was reported that Tayyaba and her parents had gone to their house in Faisalabad. But she was declared missing when the Child Protection Bureau arrived at their Faisalabad residence to take the child into their custody.
According to data obtained by Geo News correspondent Azaz Syed, the mobile phone being used by her father, Mohammad Azam, was switched off this morning at 4:40AM. Mobile data obtained by Geo News showed its last location to be that of Lehtrar road in Islamabad, disproving claim that the minor girl and her father had left the federal capital.
The whereabouts of the girl and her parents have become a major issue as the Supreme Court has summoned the child's parents to appear in court on Friday.
The case of the alleged torture of the maid caught the media's attention after she was recovered from the residence of Additional Sessions Judge Raja Khurram Ali Khan.
The minor girl, whose face and hands bore torture marks, had initially denied being hurt by her employers. She told the police that she got a wound to her eye after falling from the stairs, while her hand was also burnt accidentally.
However, the poor girl narrated her ordeal after being politely inquired by a female magistrate later. She stated before the magistrate that she was beaten and her hand was burnt on the stove for losing the broom.
On Tuesday, the matter was settled out of court and, according to the child's father, the parents had forgiven the actions in the way of the Almighty.
This led to Chief Justice of Pakistan, Justice Saqib Nisar taking suo moto notice of the case and summoning Tayyaba's parents along with police officials at the first hearing of the case on Friday (January 6, 2017).