DUBAI: Lahore Qalandars skipper Brendon McCullum says he wants his team to play like true Qalandars – by being selfless and fearless cricketers.
Speaking with Geo.TV, the former Black Caps captain said that when the team first sat down, they discussed 'what it meant to be a Qalandar'.
"It is being selfless and fearless and it is exactly the kind of cricketers we wanted to have in the squad," McCullum said.
McCullum is all praise for his team, as he stated that "first and foremost the guys are good people, we have got excellent cricketers."
"The bond in the team is for a common cause and that is a real benefit," he added.
In his words, the Lahore Qalandars squad members have gelled together beautifully. "We have a nice group of owners, nice group of support staff and obviously huge fan following back in Lahore," he added." Hopefully, we will continue to develop as a team and win the tournament."
On his aggressive captaincy, he said: "I want the guys to play with freedom. If you take that fear of failure away and when u give guys the opportunity to discover themselves as players, to develop as players quicker than what they would have while being paralysed in fear than ultimately in 20-30 years' time they can sit and look back at their experiences."
The skipper said that he is having a fantastic time at Pakistan Super League as he is witnessing great competition in high-quality cricket matches.
On PSL, he opined that what IPL did for India by giving their young players an opportunity to develop their acumen by playing along with successful international cricketers; the same trend is being followed in the Pakistani league.
"We will see the benefit of PSL in coming years when younger guys will develop at a quicker rate than probably they wouldn't have without PSL," he added.
"We have already seen the development and emergence of guys like Muhammad Irfan (Jr) in a short space of time and there are a couple of other guys who are waiting so when they get their chance I am really confident that they will be able to stand up and deliver on a big stage just as Irfan has done."
Calling the player development programme of Lahore Qalandars "phenomenal", he said that it is one of the success stories of the PSL in which around 120,000 people turned up for trial.
"The owners must be applauded for their foresight to give those players opportunities to appear on a big stage."
On the question of, "Is it tough to captain a team with diverse cricketing backgrounds," McCullum said that in fact he finds it more exciting because it gives him an opportunity to be able to have this sort of experience where he gives players the freedom to push their skill set and to understand the perspectives of players from different walks of life.
"Different upbringing, different ethnicities make the dressing room vast and all these guys come closer for one common cause," McCullum elaborated.
He thanked the people of Lahore for supporting the team and said that his thoughts are with the people who had gone through a very tough week.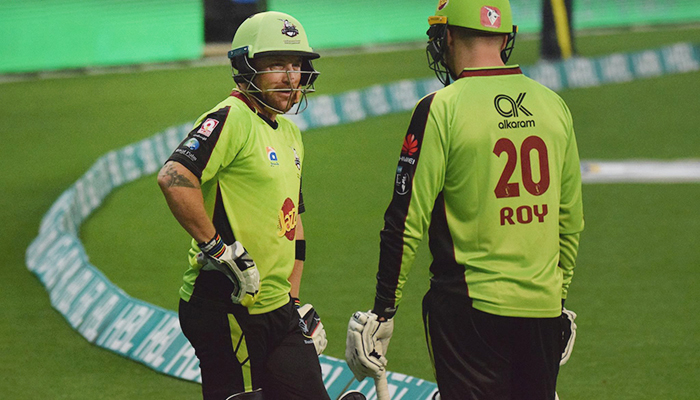 Here are some of Brendon McCullum's most notable stats from his illustrious career:
NZ's most successful ODI captain (Win/Loss 36-22)

First NZ captain to take his team to a World Cup final, in 2015

Most T20I runs by any batsman (2140)

Fastest 50 in World Cup history (18 balls)

Fastest Test hundred (54 balls) NZ v Aus 2015/16

Most 6s in Tests (107)

Second most 6s in T20Is (91)

Only batsman to score two 100s in T20Is

First New Zealander to score 300 in Tests