LAHORE: Pakistan's Test skipper Misbah-ul-Haq has announced his retirement from international cricket, telling reporters on Thursday that the series against West Indies would be his last.
Speaking to the media at the Gaddafi Stadium, Misbah said he would try his best to end his career on a high note.
The 42-year-old skipper said the decision to quit was his own and was not brought about by any external pressure.
"I had decided to retire some time ago," he said, adding that he would continue to play domestic cricket in the near future.
"But I have not decided yet what I will do after retirement," he remarked.
Reminiscing on his cricket career, he said he was proud and content with whatever he had achieved during his cricketing journey.
Since taking over the captaincy in the wake of an international spot-fixing scandal in 2010, Misbah has led Pakistan in 53 Tests, winning 24 losing 18 and drawing 11.
He also briefly led his team to world number one Test rankings last year, despite playing no matches at home due to the prevailing insecurity. The feat earned him widespread acclaim throughout the cricketing world.

Misbah with the ICC Test Championship mace after Pakistan secured the No1 ranking in September 2016
Misbah said receiving the Test mace last year remains among the best memories of his journey.
"It was the highlight of my career," he said.
But the journey was not without regrets and challenges. According to Misbah, winning the 2015 World Cup remained an unfulfilled dream.
"It was my dream to bring Pakistan the World Cup 2015 [glory], but it could not come true," he said.
Misbah's top five Test moments
Rumours have long swirled over when the veteran would call time on his long career, with former Pakistan cricket heavyweights demanding he step down in January, blaming his poor batting and uninspired captaincy for a 3-0 whitewash in Australia.
Misbah responded to the criticism by saying he would take his time to decide on his future, reversing an earlier announcement that he would quit.
"My cricket journey was very good... There were many hardships in my career but for now I am focusing on the present situation," he said Thursday. "The series against West Indies is a good opportunity to bring the team back on the winning track."
Misbah will lead Pakistan in the Tests, the first of which starts in Jamaica on April 21, the second in Barbados on April 30 and the third in Dominica on May 10.
Misbah holds the record of captaining Pakistan in the most test matches as skipper. 
Till date, he has played 72 Test matches for Pakistan, scoring 4,951 runs at an average of 44.48. He has 10 centuries and 36 half-centuries to his credit with a highest score of 161.
In ODIs, Misbah scored 5,122 runs in 162 matches at an average of 43.40. His highest ODI score was 96. He only played 39 T20 internationals, scoring 788 runs at an average of 37.52. High highest score in T20 was 87.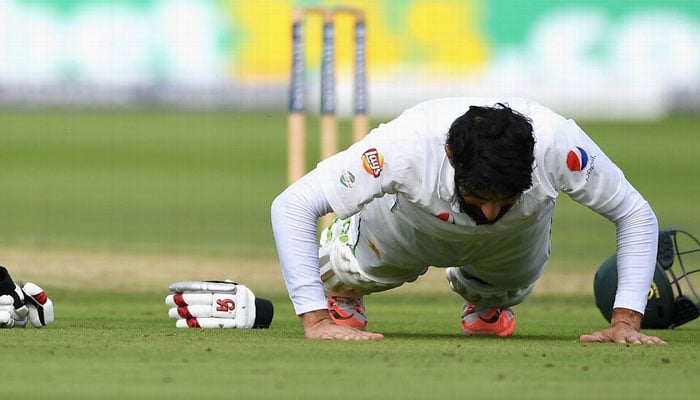 Misbah's ten press-ups during the Lords Test against England in 2016 
Misbah urges nation to back Sarfraz
Speaking to reporters today, Misbah urged the nation to throw their support behind Sarfraz Ahmed, the current ODI and T20I captain and a likely successor to Misbah in the Test format.
"Sarfraz is leading Pakistan in limited-over formats, it would be good if everyone supports him," Misbah said.
Expressing his concern over recent Test defeats faced by Pakistan, Misbah said the slump does not accurately represent the true potential of the team.
"The last six Tests do not show our capabilities, Pakistan have a good opportunity to come back on the winning track in the series against West Indies," the skipper stressed.
Reiterating the importance of the West Indies tour, Misbah said the team strives to win every match it plays and praised his side's Test batting line-up.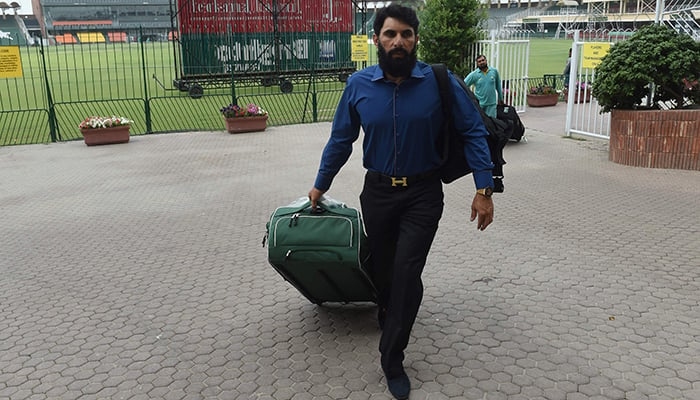 Pakistani Test cricket captain Misbah-ul-Haq leaves after speaking to media at the Gaddafi Cricket Stadium in Lahore - AFP
Reactions 
Senior sports journalist Majid Bhatti said Misbah's announcement is a positive for Pakistan cricket. "He [Misbah] has announced his retirement on a good note. Misbah guided Pakistan to several victories," Bhatti added.
Former Pakistan skipper Wasim Akram speaking to Geo News said Misbah should be given a deserving farewell. "We need to change the trend and give our heroes a proper farewell," Akram added.
"Misbah was a match-winning captain and guided Pakistan through troubled times which showed his character," Akram told Geo News.
Wasim stressed that filling Misbah's shoes would be a difficult task but whoever is appointed skipper should be supported by the PCB.
Former fast bowler Sikander Bakht said no cricketer has ever announced retirement like Misbah did today. "I wish Misbah scores 100 in every match of the series against West Indies," he said and hoped that Misbah retires on a high note.
He said Misbah is a gentleman and we have never ever heard any disciplinary issues regarding him. "He has always been good with players and Pakistan Cricket Board (PCB)," he said.
Former cricketer Muhammad Yousaf said Misbah was a great player and should be given a proper farewell. "He has enormous achievements and deserves a good send-off," he said.