KARACHI: On Tuesday night, the media wing of the Pakistan military announced on Twitter that it had taken Uzair Jan Baloch, an alleged gangster from Karachi's Lyari area, into custody.
Baloch, read one of the tweets, was "leaking sensitive security information to foreign intelligence agencies."
News of the collusion first emerged last year when the notorious gangster confessed to a Joint Investigation Team (JIT), set up by the Sindh Government, that he had been in contact with Iran's spy officials.
How old is Baloch's Iran connection? Geo.TV maps his ties with the neighbouring country, as revealed by him during interrogation:
Birth certificate:
The mobster was born on October 10, 1977, to an Iranian Baloch in a neighborhood of Lyari. During last year's judicial investigations, Baloch disclosed that one of his aunts was permanently settled in Iran and was a dual nationality holder of Iran and Pakistan.
In 1987, she obtained photographs of her criminal nephew in order to make his fake birth certificates under the name of her deceased son, Abdul Ghani, who had died seven years ago at the age of 14.
This was a time when it was not mandatory for Iranian birth certificates to have a picture; therefore, forged documents could be easily made by a simple cut and paste.

Snippets of the JIT report, a copy of which is available with Geo News
Iranian NIC and passport:
In 2006, during an operation against the gangs of Lyari, Baloch along with his cousin Jalil fled to Iran. There he applied for an Iranian National Identity Card and passport, which was again managed by his aunt.
Renewal of fake Iranian passport:
It was around the end of the decade when Baloch's Iranian passport expired.
Along with his associate Abdul Samad, Baloch returned to Iran via road and was able to renew his passport through the help of an Iranian friend, Sabir alias Sabri.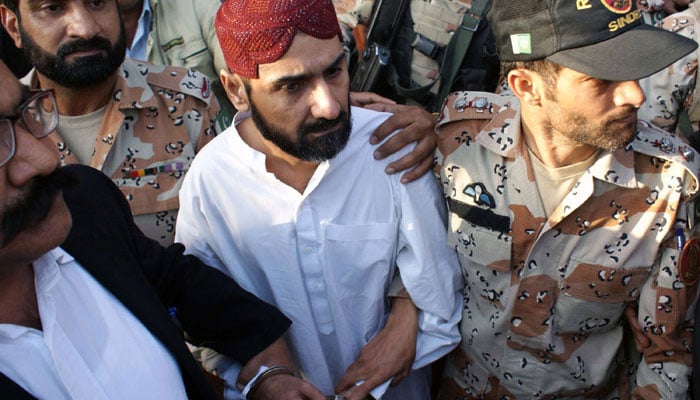 The Pakistan Army has taken custody of Uzair Baloch on charges of espionage
Meeting with Iranian intelligence officials:
In 2014, after the paramilitary operation began in Karachi, Baloch was living with his friend Malik Baloch near Chabahar, Iran. There the notorious gangster first came into contact with an individual named Haji Nasir.
Baloch revealed that Nasir was a resident of Tehsil Mand of the Balochistan's Kech district and was a dual national of Pakistan and Iran. He was settled in Tehran and owned business and property there.
According to the investigation, Haji Nasir offered Uzair Baloch to relocate to Tehran where he would be provided with a bungalow to reside in. He also told the Pakistani gangster about his close ties with Iranian intelligence officers and offered to make an introduction.
With Baloch's consent, Haji Nasir arranged a meeting with the spy officials, who asked him for information about the Armed Forces of Pakistan, including intelligence officials, and details of sensitive installations and offices.
He was also asked to brief them about the general security environment of Karachi.
Haji Nasir's name popped up again in a joint investigation report of Ahmad Saeed alias Saeed Bharam, an MQM activist arrested by the security officials of the United Arab Emirates in March 2016. During investigations after his arrest, Bharam confessed to his connections with Nasir and of interactions with Iranian intelligence officials.