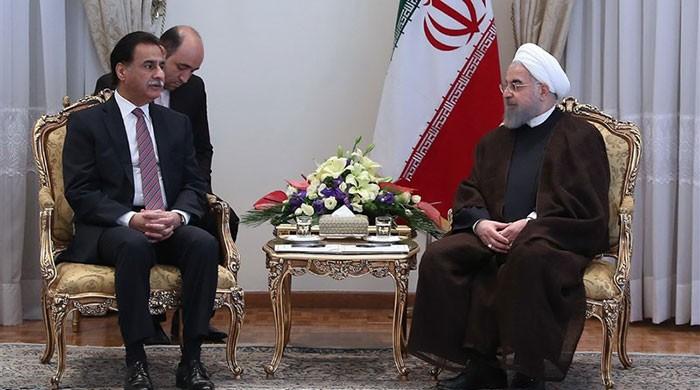 TEHRAN: Iranian President Hassan Rouhani called on Pakistan to push for completion of a long-awaited gas pipeline between the two countries, Tasnim News Agency reported.
Iran has already completed construction of the Iranian section of a pipeline that allows for exporting gas to Pakistan, President Rouhani said in a meeting with Speaker of the National Assembly of Pakistan Sardar Ayaz Sadiq, held in Tehran on Monday.
"We hope that the Pakistani side would also more seriously pursue the necessary measures to complete the project," the Iranian President added.
Hassan Rouhani reiterated his country's unflinching support and friendship to Pakistan, terming it a "trusted brother".
President Rouhani said that the two countries should take benefit of the complementarities enjoyed by the two countries and forge cooperation with each other.
He showed immense interest in Iran's joining the CPEC.
Speaking on the occasion, Sardar Ayaz Sadiq stressed Pakistan's policy of unity among the Muslim World.
He assured President Rouhani that Pakistan would never take any step that could go against the interests of the brotherly country of Iran.
He said that our region is worst affected by terrorism and we must pool our resources to jointly curb this menace.
While referring to the recent news reports on the brutalities of Indian Forces in the Indian Occupied Kashmir, the Speaker asked Iran to play its role in the early implementation of United Nations Security Council Resolutions.
He also thanked the President for Iran's continued support to Pakistan on Kashmir issue.