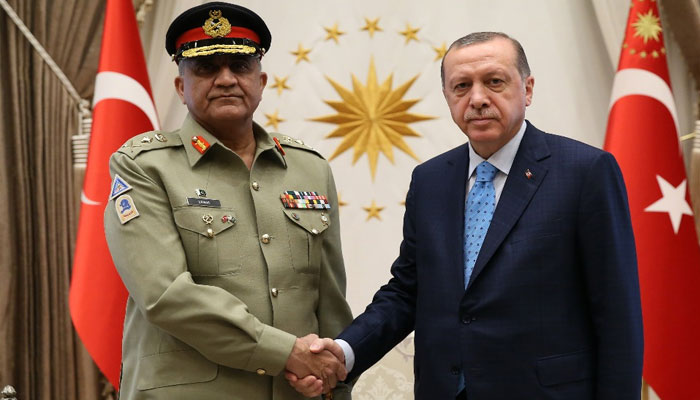 ANKARA/RAWALPINDI: Chief of Army Staff (COAS) General Qamar Javed Bajwa on Wednesday called on Turkish President Recep Tayyip Erdoğan, and discussed with him matters of mutual interest and regional security, the Inter Services Public Relations said.

The COAS thanked the Turkish president for perennial Turkish support to Pakistan and its role in bringing peace and stability in the region, the ISPR said in a statement.
On the occasion, President Erdoğan acknowledged sacrifices made by Pakistan and contributions by Pakistan Army in fight against terrorism and militancy.
He said that Islamic countries can contribute immensely towards global peace and stability, and Organisation of Islamic Cooperation (OIC) offers a platform to do that through conflict resolution and dialogue.
"The Turkish president said that Pakistan plays a very important role towards that end and multi-faceted cooperation between the two brotherly countries will have a positive influence," the statement read.
The two figures noted that Turkey and Pakistan can always count on each other's unconditional and sincere support.
'Potential for Pak-Turk cooperation in defence production'
Earlier, the army chief, who is on an official visit to Turkey, agreed upon the potential for cooperation in the field of security policies, defence production and human resource training with the Turkish defence minister, according to the ISPR.
Matters relating to the regional situation and bilateral security cooperation also came under discussion at the meeting.

General Bajwa, during his visit to Turkish Aerospace Industries (TAI), was briefed about civilian and military aviation projects undertaken by the aerospace complex. He took an introductory flight in Turkey's T129 attack helicopter.
The COAS appreciated the indigenous technical capability achieved by Turkey and said that Pakistan has great technological and industrial potential which opens the scope for very meaningful defence cooperation between the two countries.