PARIS: Forty years ago, on August 16, 1977, "The King of Rock ´n´ Roll" Elvis Presley died and rock lost its first superstar.

Presley was found unconscious at his Graceland Mansion in Memphis, Tennessee, and declared dead at the hospital. He was just 42.
The cause was pronounced as cardiac arrhythmia. But rumours quickly swirled. One of his former bodyguards described him as drugged and paranoid in an interview recorded several hours before his death.
His heavy use of opioids and prescription pills -- largely unknown to his legions fans during his lifetime -- was later determined to have played at least a role in his tragic death.
Remembrance and fainting fits
On August 17, tens of thousands of fans descend on Graceland to pay homage to their idol, who had been semi-retired since 1972.
On the six-lane "Elvis Presley Boulevard," inundated with people, the cocktail of emotion, scorching heat and a stampede causes dozens of fainting fits as ambulances rush to the scene.
Many refuse to believe that Presley is dead. In the crush, a car driver runs over and kills two of Presley´s fans.
Fans are granted just two hours to bow over the copper coffin of the "King."
Some in tears, they lay bouquets of red roses before Presley, dressed in a cream suit, a blue shirt and a silver tie.
In Washington, the White House receives hundreds of phone calls demanding a day of national mourning.
A couple of Californians write in a telegram sent to President Jimmy Carter that no death, since that of the ex-president John Fitzgerald Kennedy, has moved the American people so much.
Carter describes Presley as "unique and irreplaceable" and "he was a symbol to people the world over of the vitality, rebelliousness, and good humour of his country."
Rush for records
Across the country, record dealers are cleaned out.
In a single day, 250,000 copies of Presley´s last album "Moody Blue" are sold. Record pressing factories work day and night to meet demand. The "King" had already sold more than 500 million records during his lifetime.
Around his mansion, with the city´s hotels full, around 200 die-hard fans spend the night of August 17-18 under the stars.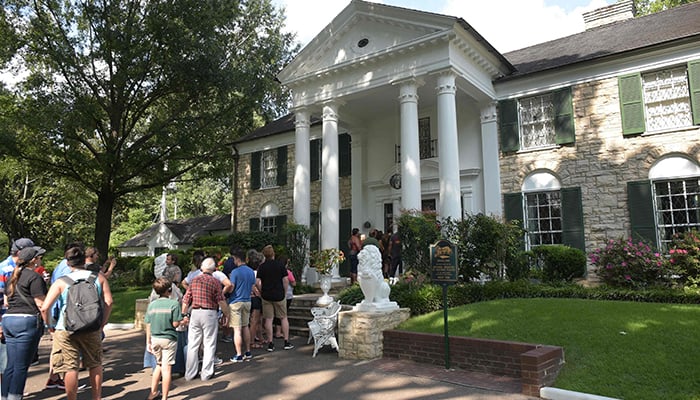 One of them, with wild eyes, says he can´t find sleep in his spot near the doorway where there are two wrought iron Elvises, guitars in their hands, surrounded by wreaths.
One fan, who owns 300 of the star´s records, tells AFP Presley´s death is the most painful moment in his life and a knife blow.
Wayne, Reynolds at funeral
In the early morning, 3,000-5,000 fans gather in front of the mansion, some wearing t-shirts and pennants of their idol.
The journalists present -- around 100 -- are kept at a slight distance by bodyguards, dressed smartly and wearing flashy jewellery.
The funeral starts with a Baptist service attended by a small group at Graceland. The crowd has to content itself with the passage in the afternoon of the funeral cortege made up of a hearse and around 15 white Cadillacs.
His body is taken along the boulevard named after him to the Forest Hills Cemetery several kilometres (miles) to the north.
The "King" is buried in the family mausoleum of pink marble, near his mother, before around 50 people including his family, close friends and several celebrities like actors John Wayne and Burt Reynolds.