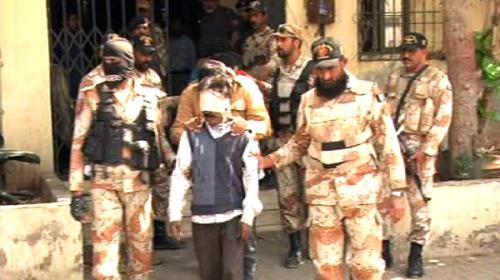 KARACHI Following yesterday's raid at Muttahida Qaumi Movement (MQM) headquarters Nine Zero, 27 arrested workers of the party have been presented at an Anti-Terrorism Court (ATC) on Thursday.
Central leader Amir Khan is also amongst the arrested presented in ATC today.
All 27 will be in custody of the Rangers for 90 days.
On Wednesday morning, Rangers carried out a raid at Nine Zero, the headquarters of MQM in Karachi as well as the party's public secretariat Khursheed Begum Memorial Hall.
A huge quantity of arms and ammunition, walkie talkies, binoculars and other military gear used by Nato forces in Afghanistan were also seized during the raid.
Rangers spokesman Colonel Tahir said that among the people arrested during the raid was Faisal alias Faisal Moto, who was sentenced to death in the murder case of Geo News journalist Wali Khan Babar.
Other 'hardened criminals' arrested during the raid included Kamran alias Zeeshan, Farhan Shabir alias Mullah, Aamir, Nadir and Obaid alias K2.
An MQM activist Waqas Ali Shah, 26, was killed mysteriously when a single bullet hit his face, while a private TV channel's cameraman was injured due to firing.
The funeral of Waqas Ali Shah will he held later today in Karachi.