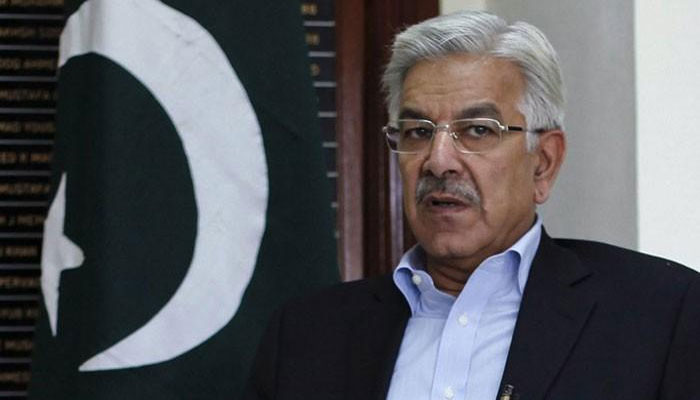 KARACHI: Foreign Minister Khawaja Asif said on Tuesday that the military and civil leadership are on the same page that Pakistan has to make a clean break from its past.
Speaking on Geo News programme Aaj Shahzeb Khanzada Kay Sath, he accepted that Pakistan has made some mistakes in the past, adding that the country should not have participated in the proxy war in Afghanistan during Zia-ul-Haq's tenure as well as the war on terror.
"We need to break our false image. We have no stake but there is baggage. We need to accept the history and correct ourselves."
Asif also remarked that countries shouldn't put pressure on countries they share a close relationship with. "We need to tell our friends that we have improved our house. We need to bring our house in order to prevent facing embarassment on an international level."
He also said that he doesn't get why people are so surprised over the terrorist names included by the BRICS (Brazil, Russia, India, China and South Africa) in the list. Those organisations are also banned in Pakistan. During Eid-ul-Azha, specific instructions were issued that no hides will be given to these banned organizations, he added.
Only one nation is Pakistan's enemy in BRICS forum, he added. 
BRICS declaration not a failure of country's foreign policy
Earlier, Khawaja Asif had said the BRICS declaration, which named terrorist groups in the South Asia region, cannot be termed as a failure of the country's foreign policy.

Speaking on Geo News programme 'Capital Talk' on Tuesday, Asif said the declaration was not against Pakistan, however, he added that a new foreign policy will have to be formed with regards to the regional situation.
Asif further said the policy should only be meant to safeguard the interests of the nation and its dignity.
Leaders from Brazil, Russia, India, China and South Africa condemned "terrorism in all its forms and manifestations" at the 9th BRICS Summit in China on Monday. The member states released the Xiamen declaration expressing concern over the security situation in the region.

"We strongly condemn terrorist attacks resulting in death to innocent Afghan nationals....We, in this regard, express concern on the security situation in the region and violence caused by the Taliban, ISIL/DAISH, Al Qaida and its affiliates including Eastern Turkistan Islamic Movement, Islamic Movement of Uzbekistan, the Haqqani network, Lashkar-e-Taiba, Jaish-e-Mohammed, TTP and Hizb ut-Tahrir," said the declaration.
"We deplore all terrorist attacks worldwide, including attacks in BRICS countries, and condemn terrorism in all its forms and manifestations wherever committed and by whomsoever and stress that there can be no justification whatsoever for any act of terrorism. We reaffirm that those responsible for committing, organising, or supporting terrorist acts must be held accountable," it added further.
Asif also denied reports of China backing India's stance at the BRICS Summit on Monday, reiterating that China was a trustworthy friend of Pakistan.
Commenting on the conference of Pakistani envoys in Islamabad, he said recommendations put forth at the conference will be conveyed to the Parliament and other forums.
Pakistan has rejected the BRICS statement, saying that there are no terrorist safe havens on its soil.
"We reject the declaration [released by member countries] at the BRICS Summit," Defence Minister Khurram Dastagir said during a meeting of the National Assembly's Standing Committee on Defence Tuesday.
"Forty per cent of Afghanistan is a safe haven for terrorists," he said later while talking to the media. 
"Pakistan has taken action against all groups on its soil and only the remnants of some are left."