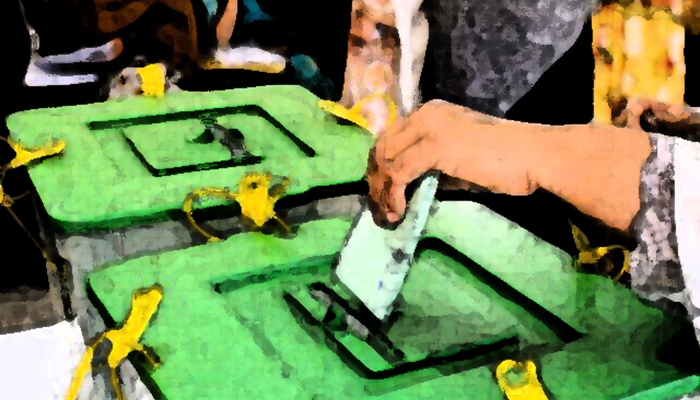 Most of my conversations these days, with friends from outside Lahore, end with the following queries: "Who do you think will win the NA-120 by-poll? Could it go to the PML-N's Begum Kulsoom Nawaz or the PTI's Dr. Yasmin Rashid? What about Faisal Mir from the PPP?"

By-elections are never interesting. But this one is. 
After Nawaz Sharif was disqualified from office earlier this year, his seat fell vacant. In a surprise move, he fielded his wife, not his brother, as many expected, to contest from his constituency. Sharif's wife is a candidate and his daughter, Maryam Nawaz Sharif, is running the political campaign. It doesn't get more interesting then this.
On the other side of the canvas is Dr. Yasmin Rashid - a PTI candidate that surprisingly racked in over 50,000 votes in the 2013 elections against Nawaz Sharif. She didn't win, but she wasn't walloped either, receiving the most votes an opposing candidate has against Sharif. These days, she is back on the field, moving door-to-door asking people to vote for her. Due to security concerns, Maryam Nawaz is only galvanizing supporters through political rallies, while local leaders of her party are taking her message to individual voters.
Now, it is important to remember that NA-120 is a stronghold of the PML-N. From 1986 till now, a candidate, hand picked by Nawaz Sharif, has raced to victory. Thrice Sharif has contested himself.
Post the 1988 population census; this constituency was marked as NA-95. Then in 2002, the area was redrawn and parts of NA-95 and 96 were clubbed together to form NA-120. The same year, under the rule of Gen. Pervez Musharraf, PML-N's Pervez Malik sealed the victory. In 2008, Kulsoom Nawaz's relative, Bilal Yaseen, was launched from the platform. Finally, in the last general elections of 2013, Sharif fielded himself and won.
For Maryam Nawaz, winning this constituency may not be difficult, due to the support base her father has built. Her focus as of now is PP-140, which falls within the area. In the 2013 nationals polls, Sharif only received a 10,000-vote lead from the provincial constituency against Rashid. As opposed to PP-139, also part of NA-120, where he secured a 30,000 plus lead.
But nothing seems to intimidate Dr. Rashid, who is putting up a tough fight. Accompanying her on the campaign trail is the ex-deputy mayor Tariq Sana Bajwa, who has quit the PML-N, and ex-MPA Ajasim Sharif.
The doctor also has facts to her side. Despite being the ex-prime minister's constituency, NA-120 has seen very little development in the last four years. There have been no provisions made for clean drinking water or garbage disposal. The roads and streets are a mess.
"Since being elected in 2013, Nawaz Sharif has not come here once," Rashid tells me over the phone, "Forget clean drinking water, the people here do not have enough to even take a bath. Since we are raising this issue, the government is quickly constructing roads in the area, which is against the Election Commission rules."
When asked for comments, Maryam Nawaz, on the other hand, defended her father's work. "In every constituency the PML-N was elected from it has done a lot of work," she said, "NA-120 was not ignored either. As I campaign for my mother I meet people who show me immense love, and treat me like their daughter. This love and affection will show itself on September 17."
For now, we can only wait for the results to pour in and see if Nawaz's words hold true.