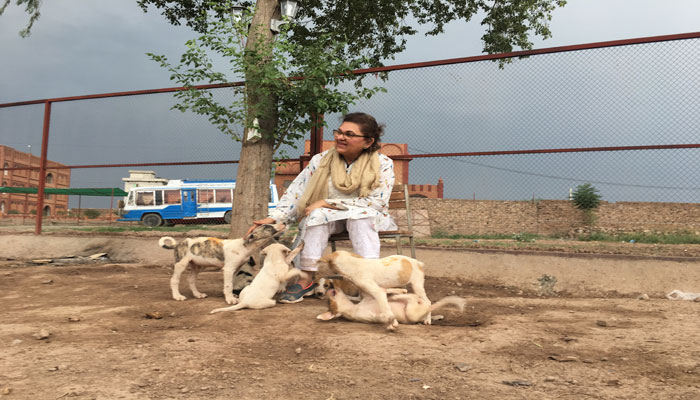 PESHAWAR: Streets of the provincial metropolis are filled with dozens of dogs, who, when hungry, dig out their meals amid trash outside a butcher's shop or at a dump site. But this very meal cuts their life short during summer when the district administration poisons their food to get rid of the pooches' population.
While killing them is the only solution for the district administration has come up with, there are also some in Peshawar who have a better idea.
Zeba Masood, a 59-year-old Pakistani-American living in the city, has opened a sanctuary for pooches Lucky Animal Protection Shelter in space provided by her father, which is home to nearly 30 dogs brought to her from the streets.
Being an activist for animal rights Masood wants a safe home for the dogs, but at the same time she is aware of the risks strays pose to the citizens. One of the largest health facilities of the city, Lady Reading Hospital, gets 30 cases of dog bites every day.
"They are multiplying by thousands and are everywhere, but there is no system under which they could be looked after," she told Geo News. "We cannot have stray animals roaming around as it is hazardous so our main purpose is to neuter them so their population is contained."
According to a report compiled by the District Health Information System, 17,841 cases of dog bites were reported from January to March this year in Khyber Pakhtunkhwa. The report stated that dog bites are one of the 43 priority diseases, and is ranked 23rd on the list. The cases are reported in the outpatient department of hospitals and treated at primary and secondary health facilities of the province.
The dogs' meal
However, until she manages to meet her goal, she takes care of pooches in the sanctuary of her shelter by giving them meat, bread, and dog food, which costs her between Rs1,000 and Rs,1500 every day.
Masood meets the daily expenses with help from her friends in the United States and Pakistan. Some organisations often help her, she said, but there is more on the cards for which work has to be done.
"We are planning to make a proper arrangement for them at the shelter," she said, adding she wants to engage others too in the cause.
"We want that people adopt puppies in the facility, so that they could take the responsibility of their expenses by paying any amount between Rs100 and Rs3,000 whatever is feasible for them," Masood maintained. Some people have appreciated her efforts, with university students now joining her in the cause.
Masood's husband Javed Khan has also supported her as he also believes that if the pooches should not be left out in the open to kill or be killed. "It is our civic duty to provide proper vaccination to them, so that not only the animals can be taken care of but we will also contribute in making out community safe."
Funds are also raised online under the name of "Save the Animals in Peshawar", through which US$487 have been received for Lucky Animal Protection Shelter that was started three months ago.